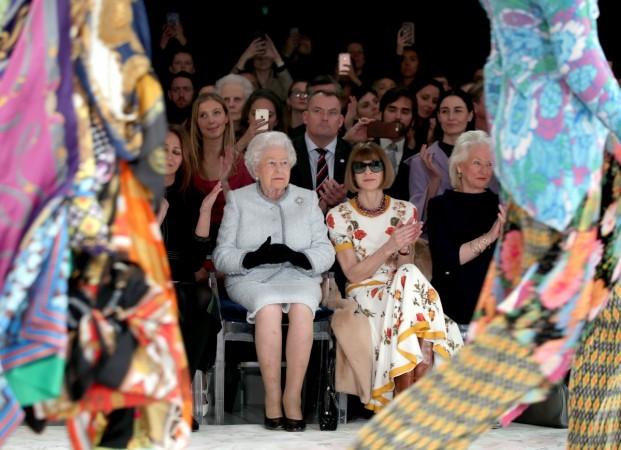 Guess who made their front row debut at the London Fashion Week on Tuesday afternoon? It was none other than Queen Elizabeth II, who stunned everyone present with an unannounced entry wearing her trademark pale blue dress and jacket.
The London Fashion Week, which had been running for more than three decades, was graced by Her Majesty for the first time in her 65-year reign.
The Queen was in the spotlight amid fashion models and designers during her first visit to the London Fashion Week as she sat between the fashion royalty — American Vogue Editor-in-Chief Anna Wintour and Her Majesty's dressmaker Angela Kelly.

The Queen may not have been particularly interested in looking at the fashion models sashaying down the ramp. She had made the surprise appearance to present young British designer Richard Quinn with an award named in her honor — The Queen Elizabeth II Award for British Design.
Quinn, a recent fashion graduate of Central Saint, has been touted as one of the most talented young British fashion designers after starting his own namesake label in 2016.
The London Fashion Week also sang praises of the young designer on its website. "Specialising in women's wear and textiles, his collections are bold and emotive creating a forward-thinking, unafraid vision. Richard creates garments with attention to innovative fabrications, focusing on his ability to combine unique handcrafted skill with a refined high fashion sensibility," it wrote.
The 91-year-old monarch was quoted by BBC as saying as she presented the award to the London-born designer: "As a tribute to the industry, and as my legacy to all those who have contributed to British fashion, I would like to present this award for new, young talent."

She added: "Our fashion industry has been renowned for outstanding craftsmanship for many years, and continues to produce world-class textiles and cutting-edge, practical designs,"
The Buckingham Palace had not made any announcement about the Queen making an unusual outing to the London Fashion Week. However, on Monday, a day prior to the event, the Queen's granddaughter-in-law Kate Middleton hosted fashion icons like Wintour, Stella McCartney and Naomi Campbell at a reception thrown at the Buckingham Palace, Vanity Fair reported.