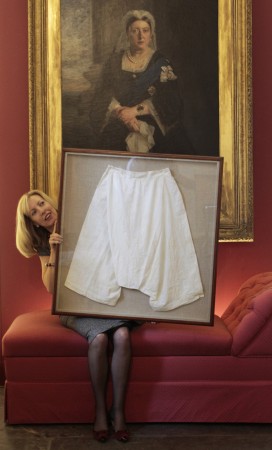 The unnatural obsession with the British Royal family has gone on for too long and too far that it has stopped being unnatural. How else could one explain a pair of old, outdated underwear fetching £6,200?
The knee-length, 52-inch (132cm) waist Royal underpants were one among a number of items to get auctioned off at the Westernhanger Auctioneers near Folkerstone in Kent, reported the BBC.
The auctioneer Michael Hogben, calling the knee-length bloomers "very large" explained, "The items are very large... She wore them towards the end of her life when she had eaten a lot more than most people could afford to."
Adding that the royal underwear belonged to 1890, Hogben revealed that a lot of her under-linen were gifted to her loyal servants, including this particular one.
"The underwear was gifted to a member of staff for their good service. They were passed down through the generations, and they are in exquisite condition because they've spent the last 75 years in a drawer," said Hogben to Mirror.
The knee-length bloomers have been in a family living in Kent for over 80 years and are one of the most interesting and strangest things he has auctioned in his 40 year career, said Hogben.
In November 2011, another pair of Queen Victoria's bloomers, personal gifts from Princess Diana and a piece of cake from the Duke and Duchess of Cambridge's wedding were sold at an auction of Royal memorabilia in Essex, according to the BBC. The Royal underwear from that auction was sold to a collector from Braintree for £360.
In 2008, a complete set of her undergarments were earmarked as a 'national treasure' and placed into the prestigious Royal Ceremonial Dress Collection, stored at Kensington Palace.