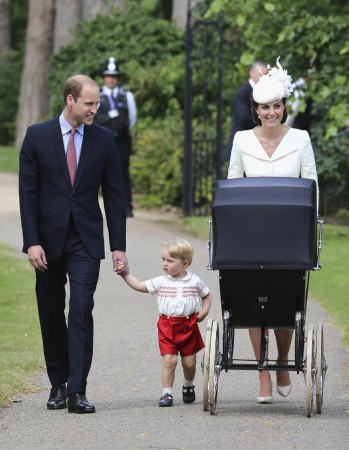 Kate Middleton could be feeling either touchy or creepy at this point. A photo-shopped picture of Princess Diana bending over Princess Charlotte, held by the Duchess of Cambridge, at the Christening event has gone viral online.
According to Daily Mail, the image has been created using an old photo of Diana which was taken when she met Mother Teresa in 1997, and has been photo-shopped with the picture from Princess Charlotte's Christening.
The photo has reportedly been shared 260,000 times on Facebook and has received 31,331 likes and 2,539 comments. The website said that it's not clear as to who created the image, but Mary Kohnke, from Milwaukee, Wisconsin, who first shared it, wanted it to go viral.
She captioned the image, "What a great job at photoshopping ... Let's make this go viral!"
Meanwhile, there are reports that Kate Middleton is expected to wear a tiara at her first state banquet at Buckingham Palace in October. The Duchess of Cambridge is definitely one of the most-photographed members in the British Royal family, but if you have noticed, she has been photographed only twice wearing a tiara.
Well, it looks like it's time the mother-of-two wears the accessory soon again. Kate Middleton is expected to attend the state banquet with Prince William to welcome China's president Xi Jinping and his wife Peng Liyuan to the UK, reported Hello Magazine. It was Prince William who reportedly invited the president to the UK when he visited China in March.
The report also said that Kate's attendance is not yet confirmed, but if she attends, then to maintain the royal protocol, the Duchess of Cambridge will have to wear the tiara for the high-profile event.
The last two occasions Kate was seen wearing a tiara was once during her wedding in 2011 when she wore the Cartier Halo Tiara and the second time when she wore the Papyrus Tiara at the Queen's annual Diplomatic Reception at Buckingham Palace in 2013.