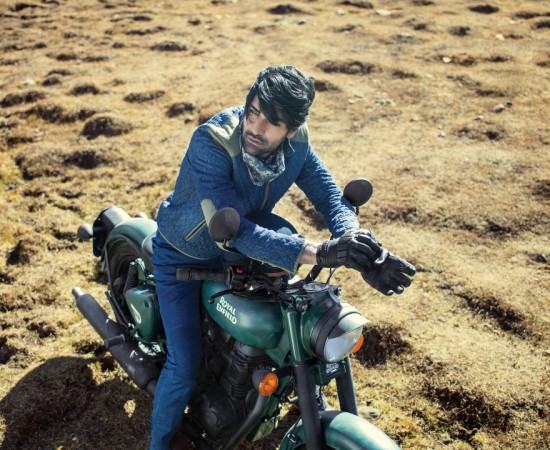 Royal Enfield, the two-wheeler manufacturing division of Eicher Motors, launched all-new range of limited edition bikes and gears inspired by World-War theme. The bikes follow a close line with the despatch riders of the time, who carried out vital information between HW and ground forces. Royal Enfield has added a modern touch to the classic Despatch bikes from the World War to give a top-of-the-line feel.
The classic look of the new limited edition despatch bikes by Royal Enfield will be complemented with matching gears, which include apparel and accessories. The new bikes and gears will be available via company's online channel in India as well as select international markets. Available in three colour variants, the Royal Enfield limited edition Despatch bikes in Desert Storm and Squadron Blue hues can be purchased in India, while the Battle Green Despatch will be reserved for international markets.
"Each Royal Enfield Despatch motorcycle has been handcrafted using a film transfer technique that uses a delicate and precise hands-on process to transfer the camouflage pattern on the motorcycle's skin. Each body panel of each motorcycle requires specialised and dedicated personnel skills. When these panels are assembled on a single motorcycle, the result is a signature camouflage pattern for each individual machine. Hence, no two motorcycles have the exact same design making your motorcycle the only one of its kind to ever roll out of the factory," Siddhartha Lal, MD and CEO of Eicher Motors Ltd, said, Autocar Professional reports.
The range of accessories to go with the Despatch bikes will include t-shirts, leather jackets with reinforced elbow patches, shoes with ankle guards, jackets with armoured pockets and toe-shifters. These gears will be sold alongside the limited edition bikes in around 50 international markets.
The pricing details of the new bikes are yet to be announced, but the accessories will be offered at various price range. According to Lal, apparels will start from Rs 990 for a t-shirt, Rs 6,500 for a cotton jacket and go as high as Rs 19,000 for a leather jacket.
To justify the limited edition tag to each Despatch bike, only 200 motorcycles will be made in each colour. This means a total number of 600 units are expected to be produced and sold around the world.