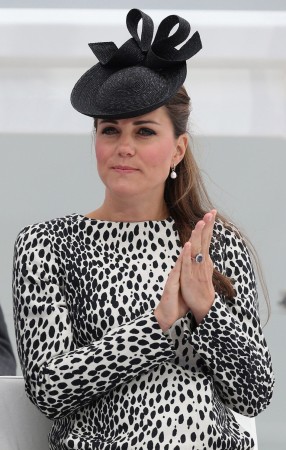 Even as the world is eagerly waiting for the arrival of the royal baby, Prince William and Kate Middleton are nowhere to be seen and the expected due date - 13 July - has turned out wrong.
A reliable source reportedly told The Times that Kate was nowhere near going into labour and even considered attending the evening concert at the Coronation Festival at Buckingham Palace.
Even as the media is camping outside St. Mary's Hospital, where she is due to give birth any day, Kate reportedly left Kensington Palace for the Middleton family home in Bucklebury, Berkshire on Friday, suggesting that she is yet to go into labour.
However, police cars were spotted outside the Middleton family home, ready to take her to the hospital when the need arises.
It was earlier reported that Kate's due date was 13 July.
"Some of Kate and William's closest pals were at a barbecue hosted by a family friend of the Royals recently. They were all discussing the fact that Kate's baby is due to be born on July 13. Everyone was very excited," a friend of the couple had told The Daily Mail.
Kate will check into her suite in the Lindo Wing of St. Mary's Hospital, when she goes into labour.
The hype around the birth of the royal baby has been overwhelming, and the report by Centre for Retail Research (CRR) even claimed that it would boost British economy.
A new report by CRR said that the birth of Prince William and Kate's first child, who will be third in line to the throne, may boost retail sales by around £243 million (approximately $376) between 1 July and 31 August, 2013.
A total of £87 million is expected to be spent on festivities, £80 million on souvenirs and toys, and £76 million on books, DVDs and media.
"It is no great surprise that this type of feel good event provides retailers with a welcome boost, with consumer hype generating additional spending," said Professor Joshua Bamfield, director of CRR.