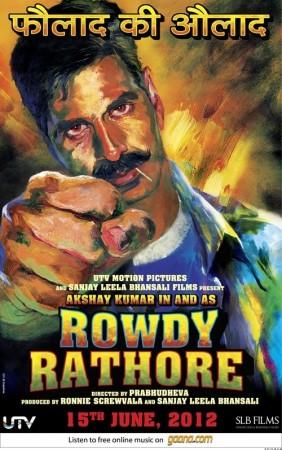 Looking at the sprawling box office collection- Rs. 1.30 billion - of the latest blockbuster movie "Rowdy Rathore," its makers have started planning Part two of the film.
The new film will be a prequel and not a sequel, in which the story will go back in life of Vikram Rathore and will include other interesting twists.
A source close to the film confirmed a national daily that the planning is already in the process and the shooting will most likely begin next year only as Sonakshi, Akshay and Prabhu Deva are busy with their other assignments.
"Sanjay Leela Bhansali, Shabina Khan and Ronnie Screwvala of UTV have already started thinking about a second film in the Rowdy series," the source told TOI.
The source also revealed: "The idea is to go back in time and portray the life of Vikram Rathore - the death of his wife and his posting in the village."
Earlier, there were reports that the part two will be titled "Rowdy Rathore Returns" but according to the latest news, it could be named after the famous dialogue of Rathore- "Don't Angry Me."
Though the prequel was supposed to be announced by the filmmakers at the success party on June 15, no such announcement was made.
The CEO of the UTV Motion Pictures, Siddharth Roy Kapoor, said: "Be it a prequel or sequel that is for the producer and director to sit and decide, for the time being we just want to enjoy the success."
This "unstoppable" blockbuster film has set an extraordinary box office record, beating all-most all superhit films released this year and the past few years.
Rowdy Rathore's collection has surpassed SRK's "Ra.One", Salman's "Ready", Hrithik's "Angneepath", Akshay's "Housefull 2" and recently released Sharman Joshi's "Ferrrari ki Sawaari."
The film, which was released on June 1, is said to be Akshay's first solo biggest opening ever.