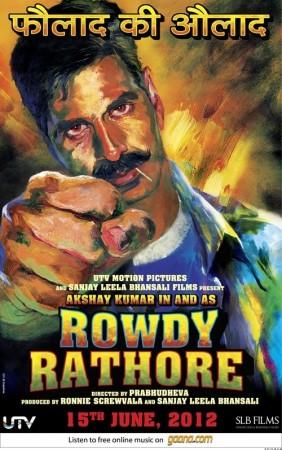 "Rowdy Rathore" has been tagged as an "unstoppable" blockbuster of the year. In just two weeks of release, the film has already crossed the Rs. 1 billion mark (INR 100 crore) and is still going relentlessly strong at the box office.
So far, it has minted over staggering Rs. 1.14 billion (INR 114.5 crore) and this definitely calls for a big 'Rowdy' celebration.
The entire cast and crew of the film along with the lead pair Akshay Kumar and Sonakshi Sinha celebrated the astounding success of the film at a five-star hotel in Mumbai.
Film's producer Sanjay Leela Bhansali and director Prabhu Deva also attended the grand success party at "Taj Lands End" hotel, Bandra.
"I am very happy that both my films crossed the Rs.100 crore mark. Now I am scared of making my third film as people's expectations have increased," IANS quoted director Prabhu Deva as saying.
His first directorial debut in Bollywood "Wanted" saw an outstanding opening.
The lead pair Akshaya Kumar and Sonakshi Sinha looked ecstatic as they arrived at the success party. "Rowdy" is Sonakshi's second film.
"I am on Cloud 18. 9+9... I am happy that people are accepting me," Sonkashi told television reporters.
"I want all my films to do well, so I keep my fingers crossed," she said.
Well, there was buzz that Rowdy Rathore part 2 is in the offing and looking at the sky-rocketing box office collection and viewer's response, Prabhu Deva has decided to make a prequel of the blockbuster film, which was supposed to be announced at the success party.
However, it seems the producers are busy enjoying the success at the moment and the prequel plans have been put on hold for a short while.
"Be it a prequel or sequel that is for the producer and director to sit and decide, for the time being we just want to enjoy the success," CEO of UTV Motion Pictures, Siddharth Roy Kapoor, said on television channels.