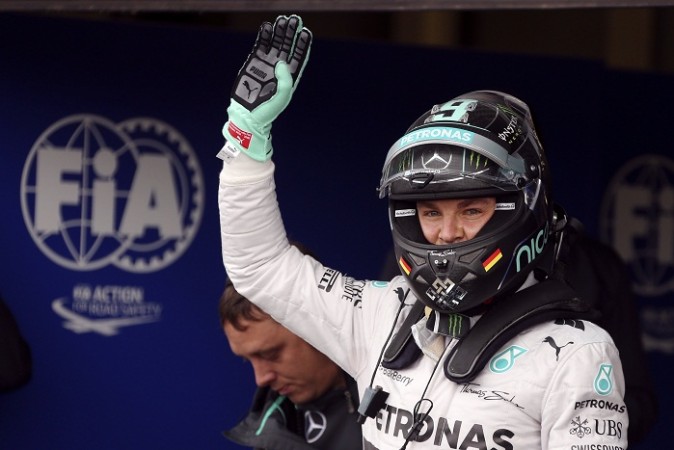 In the wake of Germany becoming the world champions in football, compatriot and Formula 1 driver Nico Rosberg decided to show his support to the team, by customizing his race helmet.
Rosberg tweeted a picture of a customized helmet, which he plans to wear during the German Grand Prix this weekend.
this will be my Hockenheim World Cup special edition helmet with the FIFA trophy. How do you like it??? @DFB_Team pic.twitter.com/ZKE4gh5EpA

— Nico Rosberg (@nico_rosberg) July 15, 2014
The helmet showcases the World Cup with four stars, signifying the various years in which Germany won the title. The above aspects are placed on top of the black, red and yellow stripes of the German flag.
Rosberg, who made news earlier this week by tying the knot with long-time girlfriend Vivian Sibold, has extended his contract with Mercedes.
This happens to be Rosberg's fifth season with the German racing brand and easily his best, with him currently sitting on top of the leader board and having a four-point lead over teammate Lewis Hamilton.
Rosberg signed a 'multi-year contract' with the racing giants. Post signing, he said: "I am very proud to drive for the Formula One Silver Arrow of the modern era.
"As a German, the heritage of Mercedes-Benz is very special for me. It has been a difficult road to get to where we are now but everybody kept believing and, thanks to the fantastic support from Mercedes, we are now leading the way in F1."
Hamilton, who also drives for Mercedes, now finds himself behind Rosberg, making way for an intra Mercedes rivalry between the two.
"There has been big progress during the past year, building up our structure, management and capability for the future. We have an awesome team and I am confident that we have the right people in place at every level. I'm looking forward to the next years together, when we will keep pushing to win even more races and, hopefully, championships," Rosberg stressed.
Toto Wolff, the executive director of Mercedes, had this to say about Rosberg and his extended contract: "Nico has been part of the Silver Arrows project since day one and he has had a big stake in the development of the team since 2010.
"His speed, commitment and focus have all helped to give clear direction and to drive the team forward. With his performances in 2014, Nico has demonstrated to the outside world what we knew already in the team; that he is one of the very top drivers in Formula One.
"This new contract brings us important stability and continuity and I am delighted to be able to make the announcement in time for the home race of Mercedes-Benz and Nico in Hockenheim."