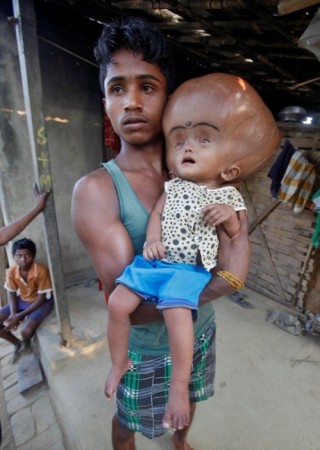 Doctors are ready to conduct another round of surgeries on Roona Begum, the two-year-old Indian baby girl who grabbed International attention for possessing an abnormally large head.
Sandeep Vaishya, surgeon and director of neurosurgery at Fortis Memorial Research Institute (FMRI), announced on Saturday that his neurosurgery team is planning to conduct more surgeries on Roona's skull, which was originally triple the size of a normal baby's, as the toddler has responded well to the previous surgeries and has shown promising improvement.
"The five surgeries we performed earlier have not only helped the child survive a potentially fatal condition, but also enabled her to attain improved nutritional status and vitals. She has gained weight, is showing better neck control and is even making noises," Sandeep, told The Times of India.
Roona, who hails from Jirania Khola in Agartala, is the only child of Abdul Rehman, who works in a brick factory, and wife Fatima. The little girl was diagnosed with a rare medical condition known as Hydrocephalus, shortly after her birth in 2011. Hydrocephalus, or commonly known as "water on the brain", is the abnormal accumulation of cerebral fluid in the brain that causes a baby's head to swell up and grow bigger than the average size.
Though doctors had little hope of the girl's survival, beating the odds, she managed to survive. Roona's father, who earned just ₹150, was hesitant to seek help from specialists, as he couldn't afford the huge cost involved with the treatment.
Roona's condition remained in the dark until April, when the media first published the heart-breaking images of the little girl. By that time, her head had grown so big that she was hardly able to move herself.
Putting an end to her miseries, people from different parts of the world came forward to help the poor family. In August, Roona underwent five surgeries on the skull, the cerebral shunt, and drained out nearly ten litres of excess fluid, making the brain size shrink from 94 centimetres to 58 centimetres. The surgeries helped Roona see properly and move her head freely.
The second round of operation is expected to take place at the Gurgaon-based hospital, next week.