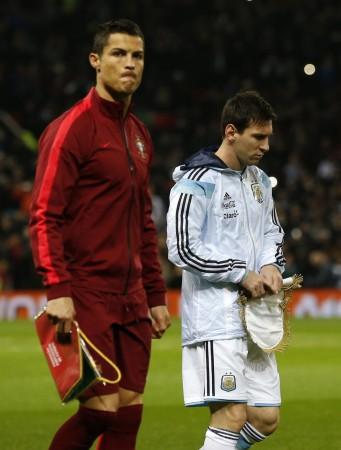 Manchester United manager Louis van Gaal feels that the 2014 FIFA Ballon d'Or award should go to one of the players from Germany's 2014 World Cup-winning team rather than Cristiano Ronaldo or Lionel Messi.
Ronaldo, who picked up the prestigious award last year, is again expected to win due to his excellent form for Real Madrid last season, as the Los Blancos went on to lift the Copa Del Rey and the Champions League.
Messi is probably just behind the former Manchester United winger in contention for the 2014 FIFA Ballon d'Or as he, despite not being as impressive as he has been for Barcelona last season, played well in the 2014 World Cup, where he won the Golden Ball award.
Apart from Ronaldo and Messi, many German stars including Toni Kroos, Philipp Lahm, Thomas Muller, Manuel Neuer, Bastian Schweinsteiger and Mario Gotze have also been included in Fifa's 23-man shortlist for the 2014 Ballon d'Or award.
And van Gaal insists that one of these players deserves to win the world's best player accolade rather than Ronaldo and Messi, who have dominated the Ballon d'Or for the past five years.
"You always have to win something and the best thing to win is the World Cup," Van Gaal told MUTV. "I hope it shall be a German player because they deserve it. In Germany, the level of the matches in the Bundesliga is also very high."
Meanwhile, Dutch journalist Hugo Borst has revealed in his new biography about van Gaal that many of his former players still bear a lot of grudges against him.
While Van Gaal earned the praise and respect of most of the players he worked with, a handful of players were reportedly not very fond of the Dutch boss.
And now Borst, in his new book enitled "O, Louis", has revealed the names of the players who still bear a grudge against the Dutchman.
"I strongly doubt whether any of the 23-man Netherlands squad of 2014 will mouth off about Van Gaal the way [Luca] Toni, Rivaldo, Lucio, Giovanni, [Winston] Bogarde and [Clarence] Seedorf have done," wrote Borst.