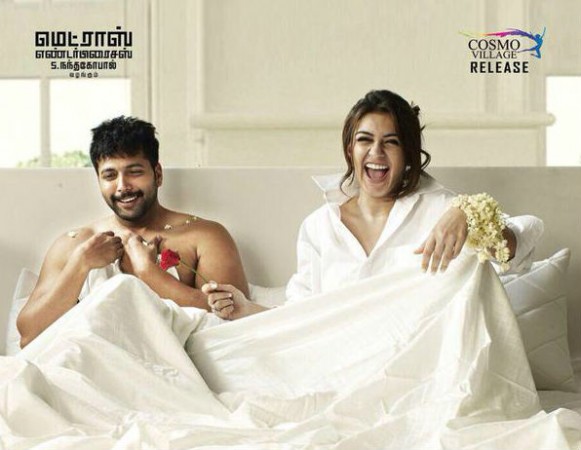 Tamil movie "Romeo Juliet", which was released on 12 June, has received some overwhelming response from celebrities. Though the movie had got mixed reviews from the critics, it looked like the flick managed to impress the celebs.
Many celebrities, including Khusbu Sundar, Sriya Reddy, Priya Anand and Sibi Sathyaraj, have watched the movie and have appreciated lead actors of the film for their performance. However, it is actress Hansika who has emerged as a favourite among celebs.
Directed by Lakshman, "Romeo Juliet" is reviewed as an average romantic comedy.
Here are the reviews of "Romeo Juliet" by various critics
#RomeoJuliet loved it showcases @ihansika as a actor and you looked great and #jayamravi you looked great ! And thank u my .... You know why

— Sriya Reddy (@sriyareddy) June 12, 2015
My little Bro #Romeo @actor_jayamravi n my little darling #Juliet @ihansika ..u guys r so good..Loved u..romance cmes alive wid u #Congrats❤ — khushbusundar (@khushsundar) June 12, 2015
Fell in love with #RomeoJuliet. .watch it to believe in true love n romance..debutant director #Lakshaman..congratulations n all the best

— khushbusundar (@khushsundar) June 12, 2015
@actor_jayamravi Congrats MachiPositive reviews are pouring in for #RomeoJuliet from all endsCant wait to watch it — Sibi Sathyaraj (@Sibi_Sathyaraj) June 12, 2015
#RomeoJuliet With @archanakalpathi & @aditi1231 Fun Watching @immancomposer 's Songs On Screen!!!

— Priya Anand (@PriyaAnand) June 12, 2015