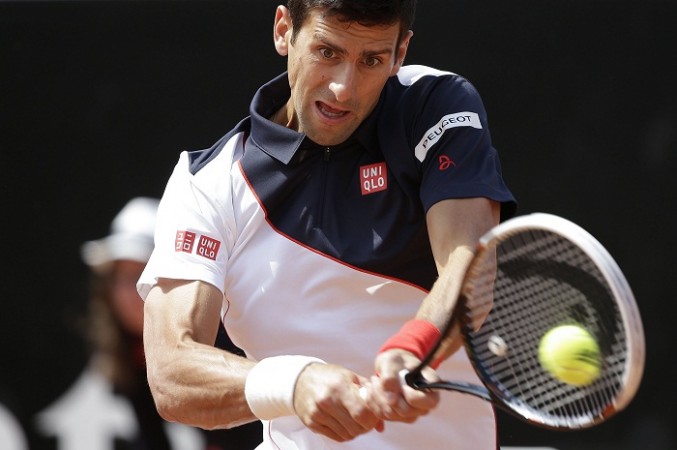 World number two, Novak Djokovic has made a winning return to the tennis court, defeating Czech Republic's Radek Stepanek 6-3, 7-5 in the second round of the Rome Masters on Tuesday.
It wasn't the smoothest of returns for Djokovic, who was playing his first match since Monte Carlo Masters, as he looked rusty against Stepanek. But he still managed to close out the game in an hour and 37 minutes.
The Czech had a dream start of the match as he broke Djokovic's serve in the first game, but the Serb quickly recovered from the downhill to win six out of last seven games to wrap-up the set.
Nole struggled to close out the second set after taking a 4-2 lead, as Stepanek broke his serve in the eighth game. The world number 2 fought back to take a 5-4 lead and serve it out at 6-5 to move into the third round.
Djokovic, a two-time winner at the Foro Italico, made only nine unforced errors in the match compared to Stepanek's 27, which proved decisive at the end.
The Serb said that the playing conditions were pretty tough, as it was not easy to get into the rhythm because of the wind on the court.
"It was one of the most difficult conditions I've played in my life," said Djokovic. "Playing when it's very windy on the court, especially on clay, the clay gets in your eyes. It was very difficult to get any kind of rhythm."
Djokovic said he got frustrated after dropping the serve twice in the second set against Stepanek, but managed to remain focused to register a win on his return post injury.
"Stepanek is a very experienced player, so that's why I had to be super-focused every game because I knew he had this variety of shots," he said. "It was a little bit frustrating when I dropped serve twice in the second set, but the positive is that I managed to stay mentally tough until the end and win."
Catch Novak Djokovic vs Radek Stepanek match highlights HERE.