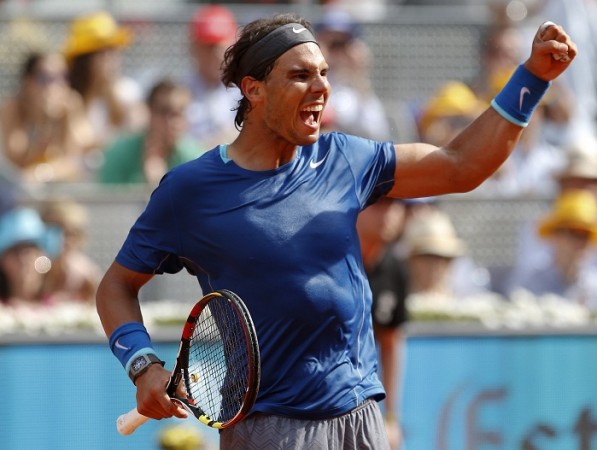 Roger Federer will be back in action when he will face the unseeded Frenchman Jeremy Chardy in the second round of the Rome Masters at the Foro Italico on Wednesday.
Federer is making a comeback after the birth of his second twins, boys Leo and Lenny. The 17-time Grand Slam champion pulled out of the Madrid Open and was expected to miss the Rome Masters as well.
"Everything happened all of a sudden on Tuesday evening," Federer said. "So that was a bit of a surprise. I thought it was going to be a few days or maybe even a week down the road. So when they came on Tuesday that gave Rome a bigger chance for me to come and play here."
"I spoke to the team and I spoke to Mirka asked them for their advice on what I should do, and they all said I should quickly come to play here. So I was like, 'Ok, if you don't want me around I'll go away,'" he added.
Federer said that he is not under pressure and just wants to maintain the rhythm after a good start of the season.
"I expect a lot from myself, but then again after what happened I come here a bit more laid back," Federer said. "Less pressure, enjoy it and just stay in tournament rhythm because I had such a good start to the season that I want to keep momentum on my side."
The 32-year-old Federer said he wants to continue the winning momentum and start the tournament with a win.
"That's basically why I'm here... It doesn't matter if I play five matches here or one match here as long as I keep the pulse of what's going on here on tour. Of course I want to win my first round match but I probably have different priorities."
The world number one and defending champion Rafael Nadal, who is chasing his eighth title in Rome, will open his campaign against the Frenchman Gilles Simon in the second round on Wednesday.
The top-seeded Nadal, who is fresh from winning the Madrid Open title against Kei Nishikori, who retired in the final due to injury, admitted that it is going to be a challenge for him to adjust to the conditions of the Foro Italico.
"Yes it's a big change, but when you are winning it is a lot easier," Nadal said. You always need time to adjust. It's nothing crazy you must work on how you hit the ball. The ball flies more in Madrid (at 800 metres) and you have less control. In Rome you have to hit harder."
"But this is something that I've done a lot over the past years."
Nadal said the conditions in Rome are tougher compared to Madrid because of the rain, but the seven-time winner is confident of performing well.
"There is a different feeling in Rome than Madrid and the conditions are a bit tougher due to the rain (which delayed Tuesday's start of play)," he said. This is a tournament that I like and where I've played a lot of important matches and done well."
The Spaniard said he is not thinking about the French Open - the title he has won eight times - and concentrating on doing well in Rome.
"We are in Rome, not Paris and I'm only thinking about this tournament," the Spaniard said. "It's always day-by-day, match-by-match for me. When I get to Paris, then it will be time to think of the French Open."
Where to Watch Live:
[Action starts at 2:30 pm IST, 9:00 am GMT]
Roger Federer v Jeremy Chardy starts at 5:30 pm IST, 12:00 pm GMT.
Rafael Nadal v Gilles Simon starts at 11:00 pm IST, 5:30 pm GMT.
The Live Coverage will be on Ten Action in India. Global online viewers can live stream the live action HERE, HERE or HERE. ESPN will have live coverage for US and Australia, but to watch the action live online, click HERE or HERE.