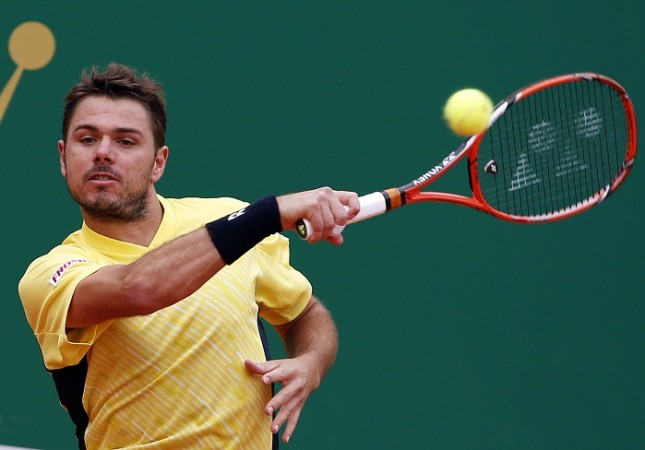 Australian Open champion Stanislas Wawrinka faced few difficulties in overpowering qualifier Pere Riba in the second round of the Rome Masters. The Swiss will now lock horns with the fifteenth-seed Tommy Hass in the third round at the Foro Italico on Thursday.
The third-seed looked in complete control of the match, racking-up 30 winners, winning 83 per cent points on first serve and commiting just 12 unforced errors.
Wawrinka, who crashed out in the Madrid Open's first round, said he enjoys playing on clay and with a couple of days practice he is back to his best.
"I am happy playing on every surface and I think I can play my best game on every surface, but I am always happy to come back on the clay," said Wawrinka. "I only need two days of practice, like in Monte-Carlo, and I can play my best game. That's the difference. On clay I know that there are less players I am scared to play."
The defending champion Rafael Nadal survived a scare against France's Gilles Simon to advance into the third round of the Rome Masters, where he will be up against Mikhail Youzhny.
Nadal, fresh from Madrid Open victory, faced a stern test from Simon and played two tiebreakers, before wearing down the Frenchman in the final set.
The seven-time champion at the Foro Italico faced difficulty in adjusting to the windy conditions on the court. Nadal, however, was happy to be tested on his first match and looked satisfied with his performance.
"The conditions were difficult, it was very cold and the ball didn't bounce a lot," said Nadal. "It was a tough moment in the second set, but this was the first match on clay where I had to suffer, mentally and physically. I was not playing bad and I am happy to have dealt with that kind of anxiety.
The second-seeded Novak Djokovic made a successful return on the court beating Czech Republic's Radek Stepanek 6-3, 7-5 in the second round of the Rome Masters. Djokovic will be up against Philipp Kohlschreiber, who defeated Tommy Robredo in the second round.
The former world number one looked rusty against Stepanek, but still managed to win in straight sets, despite the tricky windy conditions.
"It was one of the most difficult conditions I've played in my life," said Djokovic. "Playing when it's very windy on the court, especially on clay, the clay gets in your eyes. It was very difficult to get any kind of rhythm.
"I expected to be a little bit rusty on the court, the conditions didn't help, but generally it was a good win," he said. "I'm happy with that and hope to elevate my performance in the next one."
Where to Watch Live:
[Action starts at 3:30 pm IST, 10:00 am GMT]
Stanislas Wawrinka v Tommy Hass starts at 3:30 pm IST, 10:00 am GMT.
Rafael Nadal v Mikhail Youzhny starts at 7:30 pm IST, 2:00 pm GMT.
Novak Djokovic v Philipp Kohlschreiber starts at 12:30 am IST, 7:30 pm GMT.
The Live Coverage will be on Ten Action in India. Global online viewers can live stream the live action HERE, HERE or HERE. ESPN will have live coverage for US and Australia, but to watch the action live online, click HERE or HERE.