Fairy Tales always take us to a wonderful world of fantasy that we have never heard about. But here is a real life love story, which sounds like a fairy tale.
Jamie Kelly, a 24-year-old from Roscommon, Ireland, met a girl named Katie in a flight. The two spent the entire two hours talking incessantly, but before he could get her contact details, Jamie lost track of her at the passport control in Dublin airport, all because of his traitorous bladder.
Kelly had gone on air with The Ray D'Arcy Show, featured in the Today FM (Ireland), on 1 August after he sent D'Arcy an email requesting them to help him out. In it he mentions, "Flying home from a lads' holiday last Thursday, as it happened I was flying alone.).. The two seats happened to be next to a Canadian girl... It turned out she was travelling alone too and we ended up talking the whole flight and really hit it off."
The letter goes on to say that they got off the plane as well as travelled to the terminal together. He even pointed her to the non-EU residents line and waited outside the passport control for about ten minutes. Being the gentleman he is, he didn't want to go to the loo in front of the girl and thought to make use of this time for the same. But when he was back she was nowhere to be found, in spite of searching all possible locations she could be, in the airport.
"I can't help but feel she thinks I just ditched her..and didn't bother to say good bye. If you could help me, I would greatly appreciate it." All he knows about her is that she is 27 years old, brunette and is about 5'5".
D'Arcy was concerned that unless Katie and her mom, with whom she was planning to travel in Ireland, were not going to hire a cab, she is not going to hear the talk show, but the optimistic lad hoped someone who heard it would pass the message that he was looking for her.
In an attempt to reach out to her, Kelly had even emailed Rayanair saying that he had some of her belongings and gave them his details.
D'Arcy ended the interview with, "May Jamie never change. It's great to see someone go to such lengths on the off chance that he may have found something special."
Following this, the search got a lot more intense that Jamie's mates launched a social media campaign called #LoveAtFirstFlight as part of their efforts to find Katie. Jamie even went on the Canadian Broadcasting Company via Skype on 1 August.
#findkatie canadien girl, brown hair travelling around Ireland with her mum! @theoriginalgoup is looking for her. #loveatfirstflight

— gerard blaine (@gblaineofficial) August 1, 2014
Is your name Katie? Are you from Nova Scotia? Are you travelling around Ireland? Did you recently meet a young lad called Jamie? #findkatie

— Niamh Hassell (@niamhhassell) August 1, 2014
"I originally looked for her Facebook and couldn't find her. And I went to the airline and they couldn't do anything for me. So then I went on the [Ray] D'Arcy show today and they couldn't find her," Kelly said on the show.
Quick update, Jamie has given his interview to @CBCNS hopefully now we are just one step away from a reunion #findkatie #LoveAtFirstFlight

— gerard blaine (@gblaineofficial) August 1, 2014
Katie's sister Sarah who saw the program identified her sister and got in touch with them, found Jamie, gave him Katie's Facebook page and now they're hoping to meet up while she is still in the country.
#loveatfirstflight http://t.co/2R3upc3wM9 Saturdays news! Can't wait to see my sister and hear about her Irish Romeo #findkatie

— goldie starks (@goldie_starks) August 3, 2014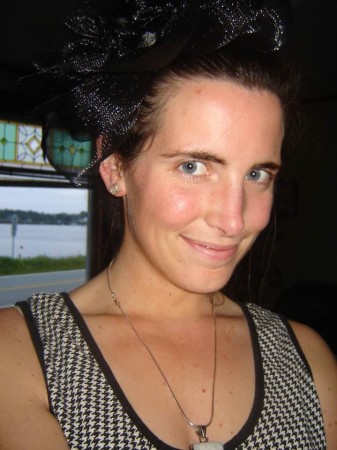 Katie Moreau too went on air with "The Ray D'Arcy Show" on the morning of 5 August and narrated her side of the story. She was already happy to be in a plane full of English-speaking people because she had just travelled in Italy and Spain and had a hard time communicating; and when a good-looking guy sat next to her, she was very excited. By the time she got to the passport control she feared to have scared him off with all the talking.
Moreau, who also confirmed that they hit it off during the journey, said she was very flattered by Kelly's perseverance. "I went for my luggage, and I thought I should go back and look for him, so I went and looked around for a bit and you know, decided I didn't wanna look too desperate so I just kept on going."
The duo's story has touched the heart of many and in fact, the person renting her room in Ireland gave her his phone so that she could talk to him, since she has not been able to maintain contact with Kelly owing to her travels.
#findkatie #loveatfirstflight has got to be the most romantic hashtags so far...this is too cute!

— Kerry Woolford (@makeup_by_kerry) August 5, 2014
I'm loving the #loveatfirstflight trend at the minute! Talk about a modern day love story!!! #suckerforlove #sorrynotsorry #findkatie

— Aoife Mc Elhinney (@AoifeMcElhinney) August 5, 2014
Even with my heart of stone, this is great!! #LoveAtFirstFlight pair reunite on the Ray D'Arcy Show | BreakingNews.ie http://t.co/3IAsZMOfN6 — Freya Drohan (@freyadro) August 6, 2014
Kelly later joined her on the show and the two confirmed that they would be meeting soon in the Irish city Waterford.
Listen to their interview here: