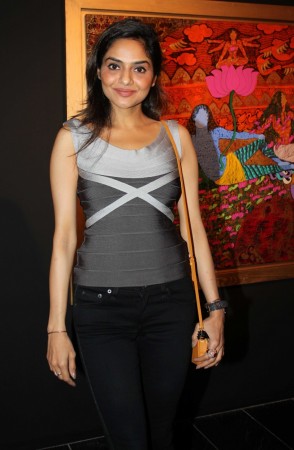 "Roja" actress Madhoo said she wants to make her Bollywoood comeback with a challenging role.
Madhoo, who is the cousin of Hema Malini, is waiting for a good offer to work in Hindi films. The yesteryear actress, who has done some remarkable roles in films like "Roja", "Phool Aur Kaante" and the Tamil blockbuster "Gentleman", is already working in South films.
Madhoo's recent Telugu film "Anthaku Mundhu Aa Tharuvatha", helmed by National Award winning director Mohan Krishna Indraganti was released in August and did pretty well at the box office.
The actress is now looking for some good and challenging roles, similar to the ones veterans Amitabh Bachchan and Rishi Kapoor are doing these days.
"I have started acting again and I am enjoying that. Hopefully I will do a Hindi film soon, waiting for right movie to come to me," Madhoo told Press Trust of India.
"When you are younger and playing a heroine, at that time things are pretty similar - like falling in love with the hero and getting married in the end. But now the movies and characterisation are different. I can do many more things than I did earlier in my life. It is like Chintuji (Rishi Kapoor), Amitji (Amitabh Bachchan), like they are doing fantastic roles now. I hope I can find something like that too," she said.
Apart from acting, the actress also wants to try her hand direction but, at present, she is only thinking of making a good comeback.
Rani Mukherjee, Sridevi, Madhuri Dixit-Nene and Preity Zinta among others made their comeback to the industry in recent years. However, only Sridevi's comeback with "English Vinglish", for which she gained appreciation from critics, was sucessful.
It remains to be seen whether Madhoo will re-discover her place in Hindi film industry.