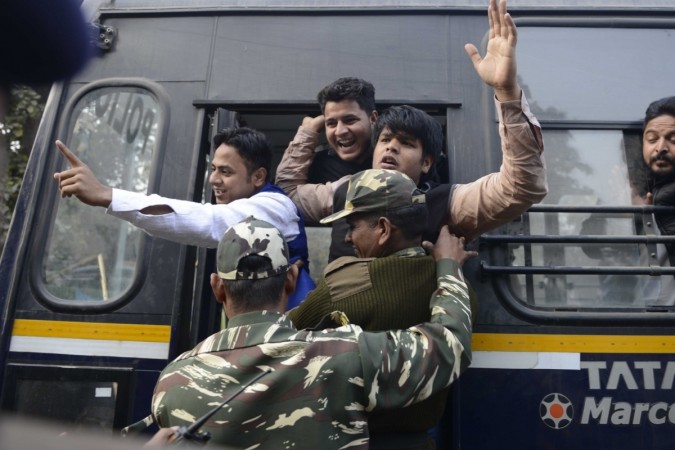 A video of the Delhi Police and some individuals in plain clothes on Saturday brutally assaulting people who were agitating over Dalit scholar Rohith Vemula's suicide outside the Rashtriya Swayamsevak Sangh's (RSS) office in Jhandewalan, New Delhi, has earned the cops immense criticism.
In the one-day-old video, released by a research scholar from Jawaharlal Nehru University (JNU), the police and others, believed to be RSS workers, are seen thrashing protesters irrespective of their gender. In one instance, a policeman is seen grabbing a female protester by the hair and throwing her on the ground.
Protests across states have been staged in support of late Dalit scholar Rohith Vemula. Protesters believe he was persecuted by the University of Hyderabad for reportedly beating up a Bhartiya Janta Party student leader. Vemula committed suicide on 17 January inside the university's hostel after being suspended from one of the university's other hostels, along with four others. They were also barred from entering public spaces of Hyderabad University.
Protesters outside the RSS office told The Indian Express the plain-clothes people seen beating them were RSS workers. However, the RSS has denied its members attacked the protesters, reported NDTV.
The police are also seen in the video using lathis against protesters, besides slapping and punching some agitators.
"We were stopped at the barricade and policemen asked us to use another road. Suddenly, a group of men appeared out of nowhere and started thrashing us mercilessly," a protester told NDTV.
As per information provided by the publisher of the video on YouTube, the police tried to smash her camera when she pointed to an RSS worker throwing rods at the protesters, instead of taking him into custody.
A photojournalist named Rahul, present at the location, alleged that the police broke his camera even when he told them he was a journalist, according to The Indian Express.
However, Delhi Deputy Commissioner of Police (Central) Parmaditya told Press Trust of India: "No protesters were detained and no force had to be used at all."
Meanwhile, Delhi Chief Minister and Aam Aadmi Party convenor Arvind Kejriwal took to Twitter to condemn the Delhi Police for reportedly thrashing the students. He wrote: "Del pol being used by BJP/RSS as their pvt army to terrorize n teach lesson to anyone opposing BJP/RSS. I strongly condemn attck on students. (sic)"