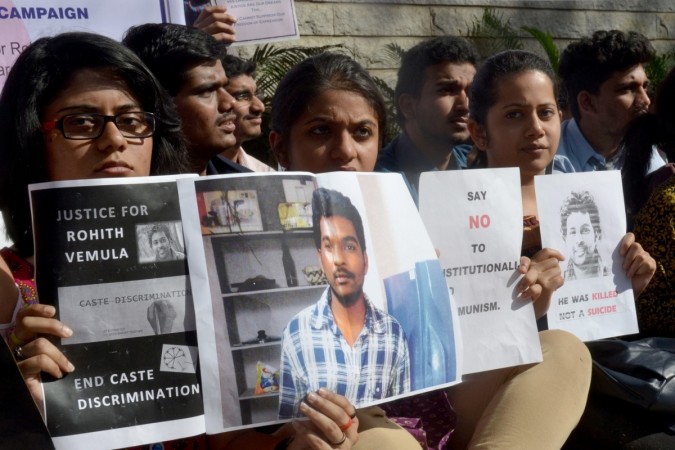 Rohith Vemula, the University of Hyderabad student who committed suicide in a hostel room Jan. 17, was jailed for seven days for writing an article against the Rashtriya Swayamsevak Sangh (RSS) in 2013, Leader of the Opposition in the Rajya Sabha Ghulam Nabi Azad said Thursday in Upper House of Parliament.
The arrest was made after the students' body of the right-wing Akhil Bharatiya Vidyarthi Parishad (ABVP) complained against his article, the Congress leader said. In 2015, some ABVP members had assaulted Vemula for tearing an ABVP poster, he added.
Vemula was a members of the Ambedkar Students Association (ASA) at the university. He, along with four other research scholars, was rusticated for six months from all facilities at the campus, except classes, for allegedly clashing with ABVP members.
Azad's statement came during a discussion over Vemula's alleged suicide at the Upper House of Parliament after the Rail Budget for the fiscal year 2016-17 was presented.
Parliamentarians Thursday discussed both Vemula's alleged suicide and the incidents that unfolded at Jawaharlal Nehru University (JNU) over the past couple of weeks.
JNU students' union leader Kanhaiya Kumar was arrested Feb. 12 for reportedly organising an event on the third anniversary of the the hanging of 2001 Parliament attack convict Afzal Guru and allegedly shouting anti-India slogans. Five other students, who had disappeared after Kanhaiya's arrest, returned to the campus and later surrendered before the Delhi Police.
All the arrested JNU students — Kumar, Umar Khalid, Anirban Bhattacharya, Rama Naga, Ashutosh Kumar and Anant Prakash — face charges of sedition and criminal conspiracy for alleged anti-India sloganeering.