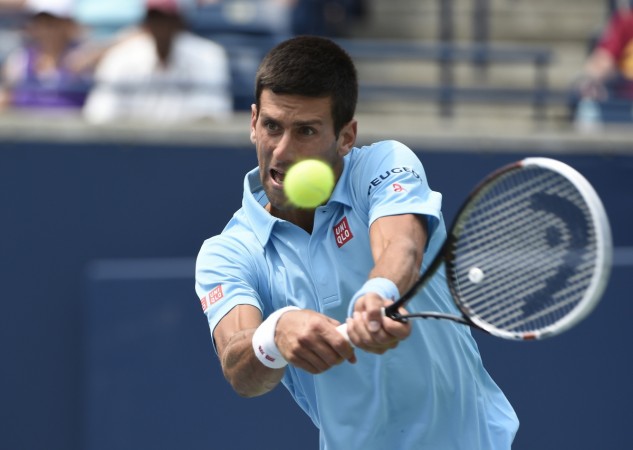 Top seed Novak Djokovic crashed out of the Toronto Masters third round on Thursday, after a 6-2, 6-2 defeat to Jo-Wilfried Tsonga, while world no 3 Stanislas Wawrinka also made an early exit from the tournament.
Djokovic clearly looked unprepared against Tsonga. The world no 1, who took three hours to beat Tsonga's fellow Frenchman Gael Monfils earlier this week, was defeated in just 63 minutes by the 13th seed.
"Well, first of all, congratulations to Jo. He played some great tennis. Served very well. He was obviously the better player on the court," Djokovic pointed out.
The Serb dropped his serve four times and had 18 unforced errors in the match.
"I haven't played even close to what I intended before going to the court. Just nothing was going. No baseline, no serve, no return. So just generally very bad day, very poor performance. Couldn't do much."
The reigning Wimbledon champion seemed to be having plenty of trouble on the hard court. The 27-year-old had a tough encounter against Monfils as well and needed a third-set tiebreaker to avoid a loss in that match.
Djokovic admitted that he did not feel comfortable in both matches.
"I didn't feel exhausted or something like that, but even in the first match (against Monfils) I was not feeling very comfortable on the court. I wasn't hitting the ball clean and a lot of unforced errors. It's maybe (a) lack of matches on this surface and well, it takes time. Let's just say it's going to be better, I'm sure."
Tsonga, on the other hand, was elated and overjoyed with the win. He did some shadow boxing and jumped up and down, before waving to the crowd at Rexall Centre.
"It's not every day you get the rewards of what you're doing every day during the year," Tsonga said. "You leave your family, practise every day hard, suffer a lot on the court. And when you win a match like this, you just feel good."
Djokovic's was the second high-profile exit of the day, with Swiss star Wawrinka dropping out 7-6 (8), 7-5 to Kevin Anderson of South Africa.
"It was an okay match, for sure, but it's tough to lose that one," Wawrinka stressed. "In general he served really well. It was tough to return, a little bit windy.
"But I had some chances, especially in the first set. I had set point and two, three times Love-30. It was more about choosing the right shot to play. I made some mistakes that I shouldn't have."
Meanwhile, after reaching the quarterfinals of the tournament, Tsonga will now face 8th seed Andy Murray of Britain.
Murray advanced to the last eight after Richard Gasquet of France withdrew from the third round due to an abdominal strain.