Right from opting to receive after winning the toss, Roger Federer, on Sunday, July 16, looked and went about his business like a guy who had played 10 Wimbledon finals in the past. The Swiss great eventually went on to become the first player to win eight titles at the grasscourt major, surpassing Pete Sampras' record of seven.
On the other hand, Cilic, who had been on fire through the tournament, was overwhelmed by the occasion and in fact broke down after losing the first set and being 2-0 down in the second at the centre court.
Cilic took his seat during the break and was reduced to tears as tournament officials and a doctor tried to console the Croatian. The match then resumed to a standing ovation from the crowd, who were getting behind the man, who was playing his first Wimbledon final.
However, the crowd got to witness the ruthlessness behind the calm demeanour of Federer, who went on to win the second set 6-1 without breaking a sweat. The 35-year-old was at his best, not being distracted by the disruption during the set.
Ruthless Roger!
Cilic then took a medical timeout to re-strap a foot-injury he seemed to have picked up before the start of the match. The 28-year-old appeared to have gained a little bit of focus of two horrid ones, but Federer was never going to take his foot off the accelerator as he strolled to a historic title with 6-3, 6-1, 6-4 win.
Emotions were running high when Federer hit the winning point. Tennis fans on Twitter let the world know how grateful they were to witness the legend coming back from a semifinal loss last year and braving injuries to win the historic crown on Sunday.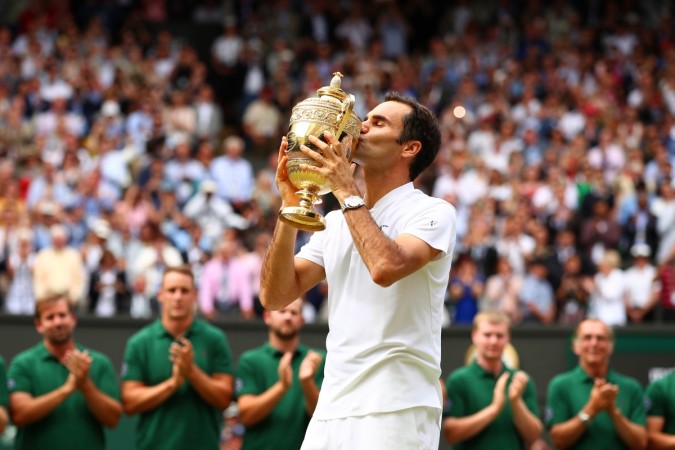 IBTimes India has compiled a few reactions after Federer's record-smashing Wimbledon 2017 win.
"I hope I can comeback next year" words every Federer fan is very happy to hear #Wimbledon #OneMoreTime

— Momin Qureshi (@Momin680NEWS) July 16, 2017
Federer says he thought that after last year he feared he might not be back at #Wimbledon 'I kept dreaming and believing here I am today'

— Latika M Bourke (@latikambourke) July 16, 2017
Back together [getty]#Wimbledon pic.twitter.com/VWpq87oESV

— José Morgado (@josemorgado) July 16, 2017
Roger that! a 14yr love affair continues #Wimbledon #Federer

— Mayanti Langer Binny (@MayantiLanger_B) July 16, 2017
Is this year actually happening? #wimbledon

— Gaurav Kalra (@gauravkalra75) July 16, 2017
Roger Federer just won a record 8th title at #Wimbledon pic.twitter.com/CDBQsYecYR

— TrivWorks (@TrivWorks) July 16, 2017
Federer vs Cilic final lasted for 101 minutes, RF won it 6-3/6-1/6-4. Probably the shortest in last 19 years, since Sampras v Pioline in 97.

— Faizan Lakhani (@faizanlakhani) July 16, 2017
Roger: Hey, Rafa. Everyone thinks we're washed up. Why don't we just win everything in 2017?

Rafa: Cool cool. #wimbledon pic.twitter.com/j4N2z3bjzp

— Dawn Rhodes (@rhodes_dawn) July 16, 2017
All the Federer kids around. Conceivably one day we could have Federer/Federer v Federer/Federer in a mixed final with Roger watching!!

— Gaurav Kalra (@gauravkalra75) July 16, 2017
Roger Federer walks this earth like a god.. #Legend #Wimbledon

— Tony Bellew (@TonyBellew) July 16, 2017
Sue Barker: Do your girls enjoy watching you play?

Roger Federer: They come for the finals.#Wimbledon

— TENNIS.com (@Tennis) July 16, 2017
If there is anything that comes close to the joy of playing cricket, it's watching @rogerfederer play. Truly is the GOAT #Wimbledon

— Hemang Badani (@hemangkbadani) July 16, 2017
Roger Federer turns 36 in less than a month! He is so far ahead of the pack in terms of longevity alone. Incredible! #Wimbledon

— Nikhila (@kokudum) July 16, 2017
And Wimbledon is central to the idea that sports can thrive without losing its soul to commerce.

— Sambit Bal (@sambitbal) July 16, 2017
Related
King is back: FedEx sends Marin Cilic packing to win his 8th Wimbledon
Garbine Muguruza wins first Wimbledon title after second-set collapse from Venus Williams
Zaheer Khan fails to meet demands of full-time role; Ravi Shastri-favourite Bharat Arun set for bowling coach role
First Kumble, now Dravid and Zaheer: How BCCI is humiliating legendary cricketers with its shoddy coach selection process
Ravi Shastri's salary REVEALED: This is how much new Team India coach will earn