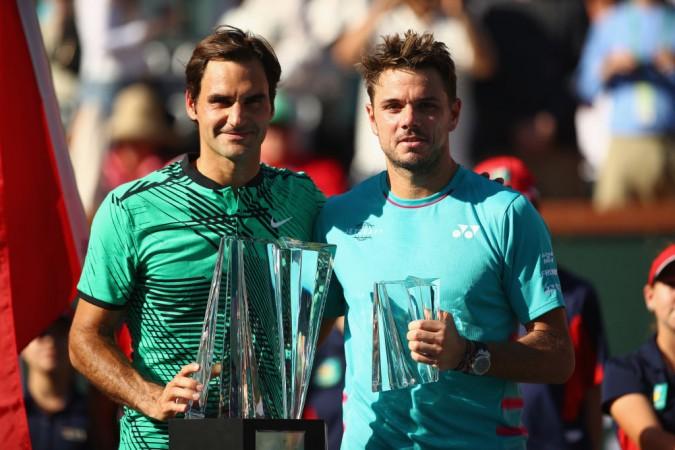 Tennis ace Roger Federer is among the hardest-working sportspersons around. At the same time, the Swiss legend never misses a chance to party hard.
Federer had said right after winning the Australian Open 2017 beating Rafael Nadal in a five-set final on January 29 that he would be "partying like rock stars" with his team.
The 36-year-old stayed true to his words: He revealed the following day that he returned to his hotel room after partying till sunrise in Melbourne.
As it turns out, Federer has revealed he loves his nights out with compatriot Stanislas Wawrinka as the latter goes "full throttle" when ready. His long-time coach Severin Luthi is also a good alternative for the three-time Grand Slam champion.
"It's always funny with Stan Wawrinka. Or with Seve Luthi. When he is ready, he gives full throttle. Whether the other players are party animals, I can not judge," Federer told CoopZeitung, as quoted by Express.
Also read: Rohan Bopanna draws inspiration from Roger Federer, targets 2020 Tokyo Olympics
He added: "You meet more on the tennis court than on the dance floor."
What happened after 2005 US Open win
The 19-time Grand Slam champion also revealed he suffered from a bad hangover after a post-match party of the US Open 2005 final win over Andre Agassi.
"After the victory on the final Sunday of the US Open 2005 I had a problem. That was not so funny. I only felt fairly normal again on Thursday," Federer said.
Federer enjoyed a terrific comeback on return from a six-month-long injury layoff in 2017. After winning the Australian Open, the Swiss star reigned supreme during the early-season hard-court swing. He then turned back the clock on grass, winning his seventh overall and first Wimbledon title since 2012.
The world number two is now training in Basel for the upcoming season. Federer will feature in the Hopman Cup, starting December 30 in Perth. He will then head to Melbourne for his Australian Open title defence.