Swiss great Roger Federer has said it was nice and refreshing to be able to work closely with Novak Djokovic in the recently-concluded second edition of Laver Cup in Chicago.
Federer pointed out that he had gotten along with Djokovic well in the past despite their fierce on-court rivalry but said he relished the opportunity to support and share ideas with the Serb.
Both Federer and Djokovic were part of Team Europe that retained the Laver Cup title with a 13-8 win over Team World.
Notably, Federer and Djokovic, after having been at either ends of the net numerous times in their celebrated careers, paired up to play the first doubles rubber of the three-day tournament on Friday.
Despite losing 7-6(5), 3-6 [10-6] to Team World's pairing of Kevin Anderson and Jack Sock, the superstar pair gave tennis fans a lot of memorable moments. At one point in the match, Djokovic hit his doubles partner with a forehand, evoking funny reactions from across the globe.
Federer was also seen giving tips to his teammates, including Djokovic and youngster Alexander Zverev, who clinched the win for Europe with a hard-fought win over Anderson on Sunday.
"I have enjoyed spending time with Novak. I said it in the beginning that we have had an intense rivalry over the years," Federer said, as quoted by Laver Cup's official website.
"I always thought we got along well and respect each other on and off the court but being able to support him, him supporting me, going through that process and talking tactics, talking team, talking who should play and just seeing what a leader also Novak can be, it's been really nice and refreshing for me.
"I won't say it's going to rejuvenate our rivalry, and I hope we will play many more times, but it's been nice on many levels."
Hope we can have another chance to get together: Djokovic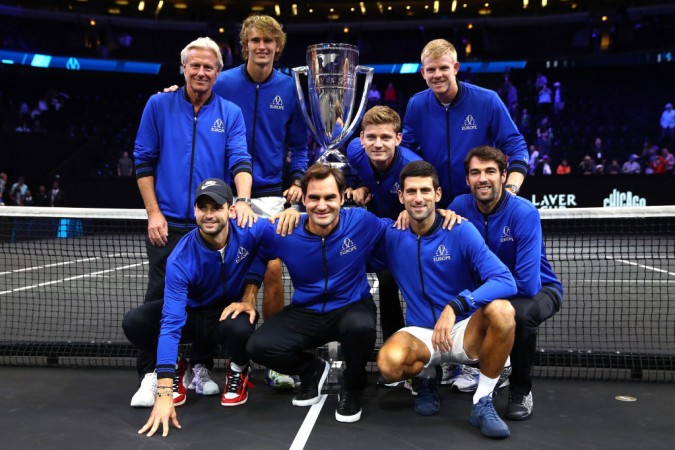 Meanwhile, Djokovic, the reigning Wimbledon and US Open champion, echoed similar feeling, saying he had fun getting to know more about his teammates over the course of three days in Chicago.
Djokovic was scheduled to take on Nick Kyrgios on Sunday in the final singles rubber but Zverev's win over Anderson brought the tournament to an end. The 14-time Grand Slam champion ended his maiden Laver Cup stint without winning a single match.
"I think having a legend, Bjorn Borg, sitting on the bench and having Roger [Federer] and the other guys supporting you after every single point, standing up and cheering you on, and having John McEnroe on the opposite bench, you know, it's quite unique," Djokovic said.
"I have experienced a lot and I have been really blessed to play this sport in high levels for so many years.
"But to talk with Roger [Federer] about different things related to tennis, life, family, football, and the other guys just joking around and dancing to Grigor's music, enjoying Kyle's singing and following Jeremy everywhere he goes, yeah, it was a lot of fun.
"I really hope that we can have another chance to get together."
Djokovic and Federer will resume their rivalry at the ATP World Tour Finals, the year-ending tournament in London from November 11.
They will be joined by world number one Rafael Nadal, who missed this year's Laver Cup due to injury issues.