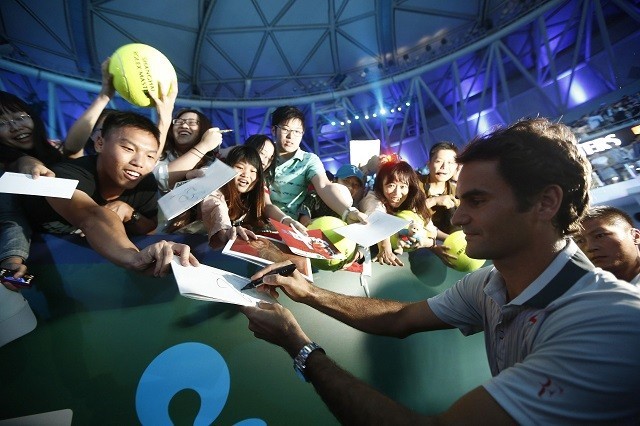 Roger Federer vs Rafael Nadal has been one of the most enduring, gripping and enjoyable rivalries in world tennis in recent times. The respect that the two players have for each other almost pours out with every forehand winner that they try to hit with the utmost perfection, when up against that now familiar face at the other side.
Outside the court, after several years of high-class action, the two legends of the game now consider themselves good friends, with the word - respect - the main binding factor.
So, asked about Nadal's incredible 2013, which has seen him rise to the top of the rankings, while taking a couple of Grand Slam titles along the way, Federer could only nod his approval and marvel at the Spaniard's unending fighting spirit.
"I think (it's) an unbelievable comeback," Federer said of Nadal, who had a long injury lay-off, which saw him miss two Grand Slams. "No doubt about it. I mean, one year ago people were saying he might never play tennis again.
"One year later he's world number one. That's how quick things can go in tennis, which is great."
Federer will be hoping Nadal transfers some of that magic dust onto him, as the current world number seven - yes, seven - look to lock up a place in the ATP World Tour Finals, the marquee season-ending event.
"I have no idea right now what the situation is," Federer said of his chances of making the tournament which features the top eight players in the world. "I'm really just focused on my own game. That's all I really need to do.
"It was the goal at the beginning of the season to qualify for it. I consider it the absolute best of the best tournament out there, so I want to be part of that.
"So it's extra motivation for me to play well and be part of that great tournament."
Federer will need a good tournament at the Shanghai Masters to ensure his place in the ATP World Tour Finals, and the Swiss is confident of doing well in China, after struggling to make an impact in the Grand Slams all year.
"I think my game's been coming back, which has been very important," he added. "Now it's about staying positive and working hard every single day. That's been the mindset.
"My mindset now is, OK, next year is going to be a great year again where I'm not going to have that many points to defend, especially at some very key moments where I consider myself a favourite.
"For that reason I'm really looking forward to 2014 already. My expectations will always remain very high. That will never change.