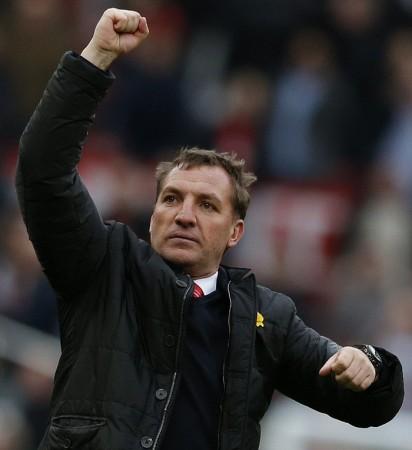 Liverpool manager Brendan Rodgers has been rewarded for a brilliant season with a new long-term contract.
The 41-year-old Northern Irishman, who left Swansea City to join Liverpool in the summer of 2012, has managed to do wonders with the club, helping them return to the Champions League after finishing second in the English Premier League this season.
This is why Rodgers, who has gained widespread acclaim for his attractive style of attacking football, has been given a new contract by Liverpool.
"Fenway Sports Group today announced that Brendan Rodgers has signed a new long-term contract with Liverpool Football Club, rewarding the great progress that has been made over the last two seasons," read a statement in Liverpool's official website.
The former Reading manager, who nearly helped secure Liverpool their first league title since 1990, expressed his delight at having signed a new contract with the Reds.
"I am both humbled and privileged to be offered the chance to extend my stay at this great club. I am very happy to build on the foundations we have built over the last two years and now we move onto the next phase which I believe will be as exciting, challenging and rewarding," Rodgers told Liverpool's official website.
"I would like to place on record my thanks to the players and staff, who have been absolutely brilliant for me since the day I started at this great football club. I am grateful to our owners and senior management team who have supported me and who share my vision of how we can progress on the field."
"Finally, I must thank the supporters who are at the heart of everything we do here. I am honoured every day to lead this team and I thank the fans for their continued support as together we strive to bring success back to Liverpool Football Club."
Although it was reported that Liverpool were ready to offer the Northern Irishman a new contract three months ago, Rodgers decided to postpone the negotiations as he was then concentrating on the Premier League title race.
"It was very important for me (to wait until the season had finished). We were talking through the season but my focus was really on the team and the supporters. I wanted to just make sure we could focus entirely on what we were doing and on the job in hand - any contract talk we would speak on afterwards," added Rodgers.
"There's still a lot of development in the club for me and it was always going to be straightforward once the season was finished because I love being at Liverpool. It's a huge privilege for me to manage this club and to have been offered the opportunity to carry on with the work I have been doing over the last couple of years. We've got a bunch of players now that are very hungry, who are very committed to helping Liverpool."
Liverpool owner John Henry and Chairman Tom Werner also expressed their pleasure at having convinced Rodgers to make a long-term commitment to the club.
"We are very fortunate to have a hugely talented individual leading our football performance and in whom we place our trust to deliver the vision we share for Liverpool Football Club," they said in a statement.
"Brendan is at the heart of what we, as an ownership group, are trying to achieve on the pitch. This season has reaffirmed everyone's belief that we can bring football success to Liverpool and we are all committed to working together to achieve that."
"Players and supporters have made it clear how important Brendan is to our success and so to have him commit to us for the long term is a great boost for everyone going forward."