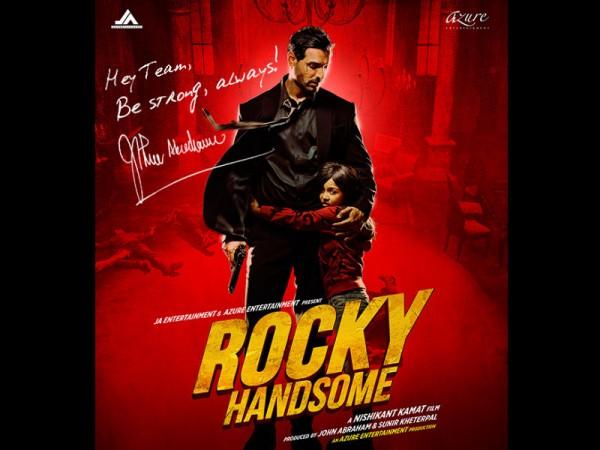 John Abraham-starrer "Rocky Handsome" is scheduled to hit the screens March 25. However, several celebrities have watched the film at the special screening Wednesday and praised the actor's performance.
But, it seems Nishikant Kamat's action thriller "Rocky Handsome" failed to impress critics, as the film has received mixed response from them. The film features John in the lead role and Shruti Haasan, Nishikant Kamat and Sharad Kelkar as supporting characters.
The flick is based on the South Korean film "The Man from Nowhere," which had opened to good reviews when released in 2010. The storyline revolves around Kabir Ahlawat (John) and an eight-year-old girl, with whom he develops a special bond.
Celebs like Sonakshi Sinha, Riteish Deshmukh, Ayushmann Khurrana and Sooraj Pancholi attended the screening of the film and praised it on social media. Take a look at their tweets here:
Sonakshi Sinha
Rock solid and definitely handsome! @TheJohnAbraham is rocky handsome... Flawless action and Super entertaining! Don't miss it!!!
Riteish Deshmukh
#RockyHandsome Best hand to hand action I have seen in yrs. @TheJohnAbraham owns the film completely & is BLOODY good. Loved Nishi-dir/actor
Sooraj Pancholi
Rockys not jst handsome but he's STRONG he's SHARP & he is not the guy u wanna mess with! Watch @TheJohnAbraham in #RockyHandsome 25thMar
Ayushmann Khurrana
He fights like Rocky and looks so Handsome. @TheJohnAbraham You're so awesome in #RockyHandsome. Must watch!