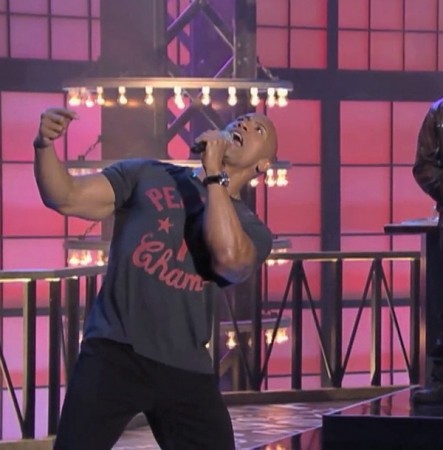 Dwayne "The Rock" Johnson has proven time and again that he is not just a wrestler. The man has broken many barriers, especially in comedy, over the years. And now, he is set to conquer the world of lip-syncing by channeling his inner Talyor Swift and "Shaking it Off" as LL Cool J's first guest on the new show "Lip Sync Battle".
After giving birth to this game at the "Tonight Show", Stephen Merchant, John Krasinski and Jimmy Fallon, who hosts the "Tonight Show" agreed to produce and "perform" on the new show that will debut on 2 April. "Lip Sync Battle" to be aired on Spike TV would be hosted by rapper and actor LL Cool J. "Like the rest of the world, I'm a big fan of these battles, but this show is going to bring it to a whole new level," Cool J, who is also a producer of the show, had said in a press release back in January.
The Rock, on 16 March revealed that he would be the first guest on the competitive "lip sync" show. One of the songs he would perform is Taylor Swift's "Shake it Off", from the album "1989". In the snippet from the show he posted on his Instagram account, The Rock is not only showing off his lip syncing skills, but also his famous dance moves, as Cool J enthusiastically cheers him on.
"#LipSyncBattle OF ALL Lip Sync Battles... Channelin' my inner @taylorswift And comin' to take the title from @jimmyfallon #IJustShakeItOffBaby #RockVsFallon #Spike APRIL 2nd," The Rock posted with the video. He is all set to win the crown of "Lip Sync Battle" from Jimmy Fallon, who has also played the game with Joseph Gordon Levitt, Will Ferrell, Kevin Hart, Emma Stone and Paul Rudd.