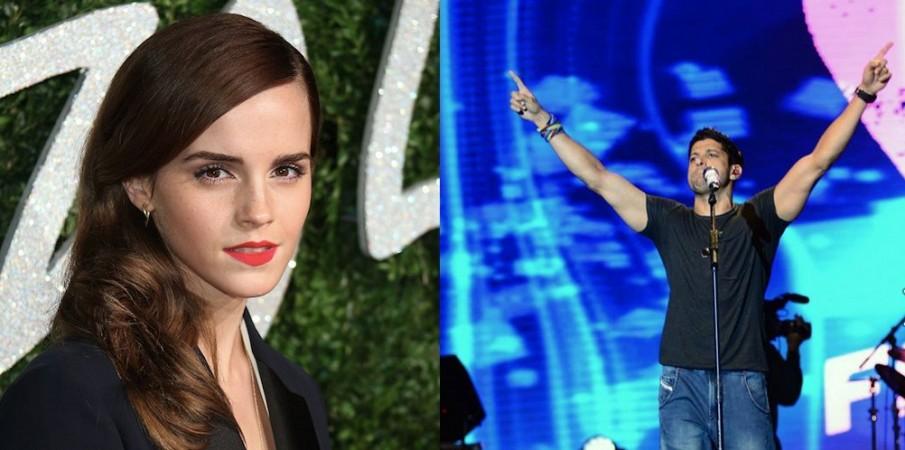 The world may be gushing about Emma Watson, but there is someone she can't stop fawning over, Farhan Akhtar.
Watson, who is the UN Goodwill Ambassador for women, is very impressed by the "Rock On!!" star's attempts to empower women and raise social awareness against rape and discrimination of women. Watson was intrigued by Akhtar's initiative, MARD or Men Against Rape & Discrimination, which became a topic of discussion in several social networking sites and is backed by fellow actors including Shahrukh Khan, Priyanka Chopra, Arjun Rampal and Hrithik Roshan.
MARD focuses on creating awareness against the increasing number of crimes against women and targets men, coercing them to re-think their own value system and be the catalyst of change for women's empowerment in society.
Watson, who spoke passionately about the concept of "he for she" wherein men stand up and speak for women, introduced Akhtar to the world, unfamiliar with his off-beat Bollywood films that have made a mark even in global cinema. She was very intrigued by MARD and asked the UN team for details regarding the campaign and took to a social networking site to spread the word on it.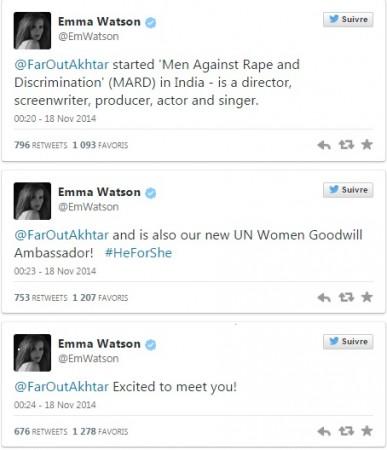 Akthar's relentless campaign for women's rights caught the attention of UN as well. HeForShe had tweeted, "@FarOutAkhtar thank you for being a champion for #genderequality and our UN Women Goodwill Amb for South Asia. You are a true #HeForShe!"
The Bollywood actor, director and singer, believes that elevating women is possible only by raising awareness among the public. He has expressed his gratitude to all his celebrity friends who lent their voices for the MARD campaign in different languages, including the god of cricket, Sachin Tendulkar, Telugu actor Mahesh Babu, singer Shaan and cricketer and cancer surviver Yuvraj Singh.
"Chulein Aasman", a song about female emancipation and about freeing women from the roles that they have been coerced into playing for centuries, is sung by Akhtar and Salim Merchant. With Google's 'Helping Women Get Online' initiative, MARD hopes to "generate awareness around the need to get women online as well as encourage existing users to help get more women online, and spread awareness of Gender Equality and Women Empowerment."