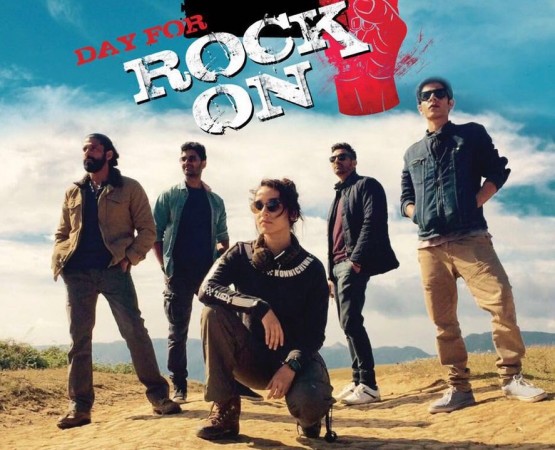 Farhan Akhtar's Rock On 2, which is set to hit the theatres on Friday, November 11, is the sequel to blockbuster film Rock On. The 2008 release Indian rock music drama marked Farhan's acting debut and also catapulted him to stardom. The movie, produced by Farhan and Ritesh Sidwani under the banner Excel Entertainment, received immense love for its music and the friendship of "magik" band members.
While the sequel retains the original cast including Farhan, Purab Kohli and Arjun Rampal, with new addition of Shraddha Kapoor as the female lead, Rock On 2 doesn't have one important team member, the original director Abhishek Kapoor.
It is known that Abhishek and Farhan had a fallout when the former had moved the Bombay High Court to stop the making of the sequel to the 2008 film. He claimed that he had been working on the script since September 2011 and had accused Farhan's production banner of giving writer Pubali Chaudhuri sole credit for the script. Although the court ruled the case in favour of the director, it strained Farhan and Abhishek's relationship.
However, in a recent interview, Farhan said that the filmmaker would always a hold special place in his heart although he admitted that his and Abhishek's lives have gone into two different directions.
The fallout was the reason why Farhan teamed up with director Shujaat Saudagar for Rock On 2. Saudagar had worked with Excel Entertainment as second unit director on Farhan's directorial venture Don 2 and the duo had also worked together in some ad films.
Recently, Farhan revealed it to SpotboyE regarding what made them choose Saudagar as the director of Rock On 2. "During the development of the project we had come to a point where we were asking ourselves, who would direct the film. I had previously worked thrice with Shujaat in some ad films. In his capacity, he has directed more than 150 TV commercials. We also worked very closely on Don 2. He was the 2nd unit director and we grew very fond of him. To add to all of this, rock is his favourite genre of music. So all these factors came together, and we decided that Shujaat was the perfect person to helm this film," he said.