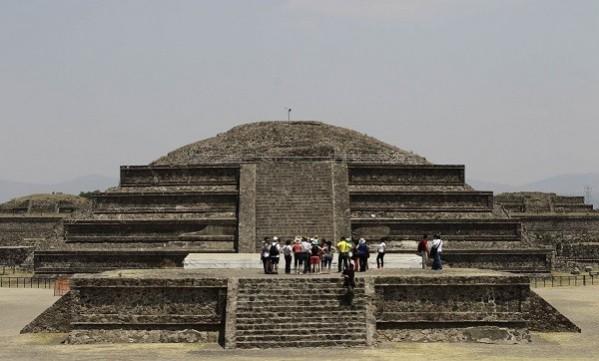 A small robot has discovered three ancient chambers that lay hidden under the famous Temple of the Feathered Serpent at Quetzalcoatl, near the Pyramid of the Sun in Mexico.
The temple is part of the archeological site known as Teotihuacan ("City of Gods"), which is well-known for its several complex buildings and pyramids.The three-foot-long robot, named Tlaloc II-TC after the Aztec god of rain, was lowered into a 2,000-year-old, unexplored tunnel, which was discovered when heavy rains uncovered a hole under the temple in 2003.
Archaeologists from The National Institute of Anthropology and History (INAH) who were involved in the project called "Project Tlalocan, Underground Road" were hoping to find a single chamber at the end of the tunnel. But the remote-controlled robot sent back images of three ancient chambers in the tunnel, located some 60 kms north of Mexico City.
Researchers hope the discovery could shed light on ancient ceremonies including burials that were suspected to have taken place earlier, reported CBS News.
According to Daily Mail, the archeological site with complex pyramids, plazas and temples was once an influential city with more than 100,000 inhabitants in pre-Hispanic North America during that time. But very little is known about its rulers after the Teotihuacan culture began to flourish there.
In 2009, excavations began to reach the tunnel. Archaeologist Sergio Gomez speculated in 2010 that the tunnel led to the ruler's tomb. "I think the tunnel was the central element, the main element around which the rest of the ceremonial center was built," Gomez said at that time, according to Daily Mail. "This was the most sacred place."
"There is a high possibility that in this place, in the central chamber, we can find the remains of those who ruled Teotihuacan," he said.
In their next step, archaeologists will remove the debris that is blocking some part of the 120-metre-long tunnel. They believe that the wreckage hides a staircase that leads three to four metres deep below ground, according to an Agence France-Presse news agency report.