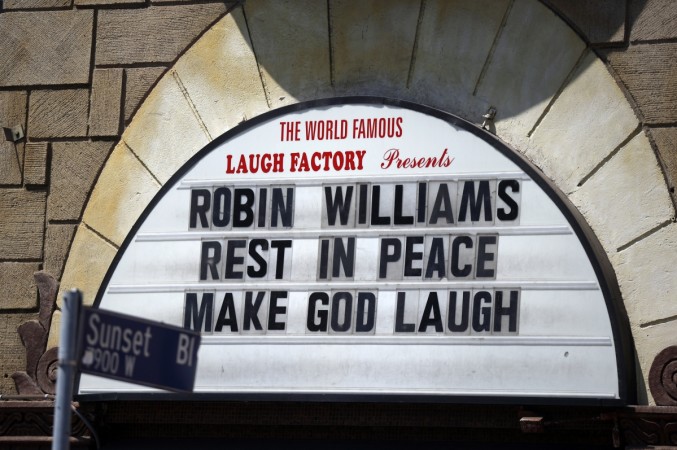 Academy of Motion Picture Arts and Sciences, popularly known as the Oscars, has come under fire for its "Genie, you're free" tweet following the death of actor Robin Williams, who was the voice of Genie in Disney's 1992 film, "Aladdin."
The tweet, which included an image of the genie hugging Aladdin against a backdrop of a starry night sky, read: "Genie, you're free."
Genie, you're free. pic.twitter.com/WjA9QuuldD

— The Academy (@TheAcademy) August 12, 2014
A number of suicide prevention group has criticised the Academy for glorifying suicide, and indirectly telling vulnerable people that taking one's life is an option.
"I am particularly concerned that use of the 'Genie, you're free' tweet could be seen as validation for vulnerable young people that suicide is an option," Ged Flynn, chief executive of the charity Papyrus, told The Guardian. "The most important message to be conveyed as a result of this sad death is: if you are feeling suicidal, talk to someone; there is help to see you through dark times."
The message has been retweeted more than 3,26,000 times, and favourited by 2,30,216 users, and analytics site, Topsy, believes that as many as 69 million people could have seen it, the Washington Post reported.
The publication added that the tweet violated the public health standards for how suicide is talked about in the media.
"If it doesn't cross the line, it comes very, very close to it," said Christine Moutier, chief medical officer at the American Foundation for Suicide Prevention, told the publication. "Suicide should never be presented as an option. That's a formula for potential contagion."
Suicide prevention forums have expressed concern that Williams' death might trigger the phenomenon of copycat suicide, where vulnerable people emulate how a celebrity has committed suicide. This is mainly caused by the media coverage or publicity around the death of a celebrity or a socially prominent figure.
"Research has shown for instance that the deaths of such well-known people as Marilyn Monroe and Kurt Cobain were followed by a sudden rise in suicide numbers," Paul Kelly, founder and chief executive of Console, a suicide prevention service, said. "The fear is that it (death of Robin Williams) might trigger a contagion," he told The Irish Times.
He added that callers to Console had been asking "what hope there could be for them now when a man like Robin Williams who had been quite open about his depression and who had such resources still ended up taking his own life."