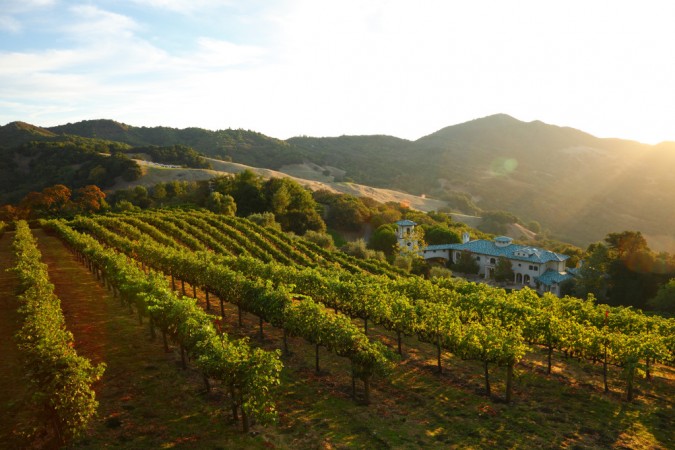 Robin Williams, the deceased beloved comedian, left behind a sprawling vineyard estate called the "Villa Sorriso" or "The Villa of Smiles". He tried to sell it for $29.9 million in April this year but failed to unload it and now, the price of the property has been lowered to $25.9 million.
Williams owned the Napa Valley, Calif., estate since 2003. He first listed the place in 2012 for $35 million with Sotheby's International Realty. After it sat unclaimed for a while, Williams took it off the market only to re-list it with Cyd Greer of Coldwell Banker Previews International, earlier this year.
The Napa Valley estate spreads across 639 acres on six parcels of land. It includes an 18.4-acre working vineyard.
The property has a grand 20,000 square foot main villa, which is a marvel in itself. Comprising of five bedrooms and six full and four half bathrooms, the residence has a 12-seater theater, a billiards room, a temperature-controlled wine cellar and a paneled library with three in-laid panels with "Carpe Diem," "Amor vincit omnia" (Love Conquers All) and "Villa Sorriso" etched in each one of them, according to Yahoo Homes.
Outside, the home has manicured gardens, a 65-foot edge pool, a wading pool, a spa and a 3,200 square foot caretaker's house too. Other features include a 9-stall horse barn, a tennis court, a riding trail and a huge olive grove.
Describing the estate as a "crown jewel," the listing calls the property a "preeminent vineyard estate" that is "superbly sited atop the Mayacamas Mountains in the renowned Mount Veeder grape-growing appellation, located between the Napa and Sonoma Valleys."
"Villa Sorriso: a magical destination in America's most celebrated wine making region," the listing adds.
Curbed has more photos of the Napa Valley Estate.
Robin Williams was found dead in his Paradise Cay home on August 11, 2014, much to the shock of the entire world. The comedian committed suicide and the cause of death was determined as "asphyxia due to hanging."
"The world will never be the same without him. I will miss him and take him with me everywhere I go for the rest of my life, and will look forward, forever, to the moment when I get to see him again," son Cody Williams said at the time.