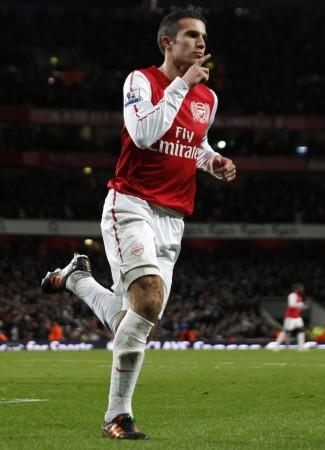 It looks like Manchester United Manager Sir Alex Ferguson is very keen to see his latest man Robin van Persie play for his team, as he has announced his debut even before getting through the medicals.
Sir Alex Ferguson is prepared to gamble on the match fitness of Robin van Persie by handing the £22 million forward his Manchester United debut against Everton at Goodison Park on Monday evening, reported The Telegraph.
"Sometimes medicals take a little longer and it may carry on until Friday," Ferguson told the daily. "But I'm sure he [Van Persie] will be available for Monday's game."
Manchester United has completed the much-talked-about deal with its rival Arsenal on transfer of its main striker Robin Van Persie. The 29-year-old Dutch striker has agreed for a four-year contract and is worth £200,000 a week at Old Trafford.
Arsenal had earlier confirmed that Robin van Persie would be moving to Manchester United.
"Arsenal Football Club can confirm that terms have been agreed for the transfer of Robin van Persie to Manchester United," reads a statement in Arsenal official site.
"Van Persie will travel to Manchester on Thursday in order to agree personal terms and complete a medical ahead of the proposed move."
Arsenal manager Arsene Wenger's loss is Sir Alex Ferguson's gain. It is reported that the former reluctantly agreed to sell Persie, as he was adamant on leaving the team, while the latter was keen to rope in the stricker from Netherland to resurrect the club, which suffered a huge following the exit of Christiano Ronaldo.
Manchester United has announced that the Dutch player will move to Old Trafford from Arsenal soon.
"Manchester United is pleased to announce it has reached agreement with Arsenal Football Club for the transfer of Robin van Persie. The deal is subject to a medical and the agreement of personal terms. A further announcement will be made in due course," said a statement from the club.