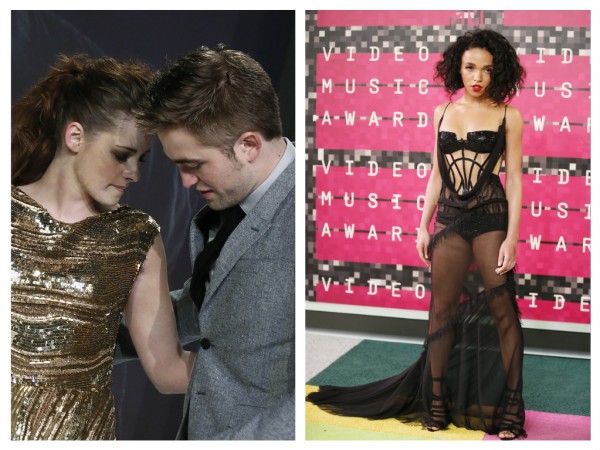 While Robert Pattinson and Kristen Stewart's love story has been internet's all time favourite saga, the newest addition to this has also gained a lot of popularity. And it goes --- whether the actor will marry his fiancé FKA Twigs or not.
If the latest buzz is anything to go by, then it looks like the singer wants to call off the wedding and opt for an open relationship as she is feeling "jealous and insecure" of KStew and her growing closeness to Pattinson.
It looks like Pattinson is feeling torn between his fiancé and his ex-girlfriend. And it's his current state of being that is getting on Twigs' patience. According to a new report, recently when the actor wanted to support Stewart at a NYC event, it didn't go down too well with the singer.
Apparently, Twigs can't and doesn't want to see the "Twilight" actors getting close again and that's why she is doing everything to keep them apart, Hollywood Life reports.
"FKA Twigs went ballistic and screamed, 'No f***ing way,' when Robert suggested supporting Kristen at a NYC event for her new movie, 'Clouds of Sils Maria,'" a source said.
The report further stated that Twigs is "jealous and insecure" of Stewart and this is making Pattinson feel very uneasy. "Now, as his relationship with Twigs gets more volatile, he's feeling completely torn between the two women," the source added.
Pattinson and Twigs who were supposed to have got married this year, have put their wedding on hold because of their fights over Stewart. "Robert and FKA Twigs were supposed to get married this year. That was the plan, but his indecision over the situation has caused a delay," the source shared.
And now, Twigs is tired of waiting and has apparently changed her mind about marrying Pattinson. According to Inquistr, the singer now wants an open relationship instead of marriage with Pattinson. The website has scrutinised Twigs' lengthy Instagram post about love and has pointed out that the post suggests that Twigs wants an open relationship.
Could Stewart really be the one coming in way of Twigs and Pattinson's wedding?