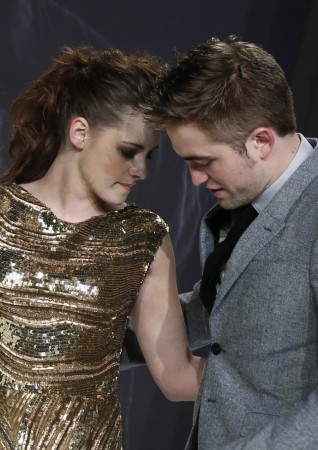 It seems Robert Pattinson is not in the mood to forgive his girlfriend Kristen Stewart for the second time, as he has reportedly started packing off his belongings from the house they share on learning that she is still in touch with Rupert Sanders, with who she had an affair in the past. He is said to be angry and upset with Kristen.
Robert Pattinson and Kristen Stewart, who reunited after a brief breakup following the latter's affair with "Snow White and the Huntsman" director Rupert Sanders, are currently living in the latter's mum Jules' house. The actress' mum has been going through a rough time after separating from her husband.
The 27-year-old actor reportedly decided to part ways with Kristen once and for all after he came across Sanders' text message on her mobile phone on his birthday on 13 May.
"Rob was looking at her phone on the morning of his birthday as he wanted to take a picture of something when she was in the shower. Suddenly this message flashes up and it's not what he wanted to see. He got straight up and left," The Sun quoted a source as saying.
"Despite Kristen's pleas, he told her not to come to his birthday party at a friend's that night. He's extremely angry and upset. No matter how many times she calls or texts, friends say he's had enough. After everything that happened and the hurt she caused, he's furious she'd be back in touch with him, even if she is saying it's completely innocent. It does look like this time it's over for good. He simply can't trust her," added the source.
The news of the break up came not long after the reports of them getting closer than ever before ever since Pattinson returned home after the shooting of "The Rover" in Australia.
The couple split last year after Kristen and Sanders made a shocking revelation of their relationship before reuniting after a few months.
However, the affair cost Sanders's marriage with model Liberty Ross.