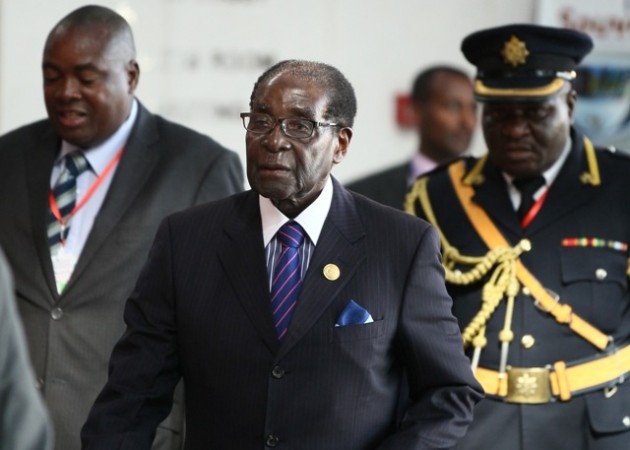 Shortly after been elected as African Union chairman in Ethiopia last week, Robert Mugabe, the 90-year-old longtime President of Zimbabwe, missed a step and plunged to the ground. This happened after Mugabe addressed his supporters at Harare International Airport on Wednesday.
Though the moment was captured by paparazzi, government officials forced them to remove the images from the media.
However, many creative minds have come up with hilarious photoshopped images of the president, to prove that it is difficult to hide something from the public in this age of social media, where people are ready to take a potshot at anyone or anything.
#MugabeFalls has become a trending topic on social media platforms.
Robert Mugabe is trying to suppress photos of his fall at Harare: #MugabeFalls #EpicStrut #Mugabe #dictaduranuncamas pic.twitter.com/ekklzoFp6T

— Juanita (@nita__chiquita) February 6, 2015
Check the hilarious photoshopped images of Mugabe below:
♫ ♬ Mugabe, are you OK? Are you OK, Mugabe? You've been tripped by A smooth CRIMINAL !♬ ♫ #MugabeFalls pic.twitter.com/Rxz4tnq2de

— Lee Healey (@HealeyCartoons) February 5, 2015
The best of Robert Mugabe stumbling #MugabeFalls #MugabeStumbling pic.twitter.com/F7cDKfXK7G — ★★★ oDΔFE ★★★ (@Iam_YungJoc) February 5, 2015
And a clear winner in my book #MugabeFalls pic.twitter.com/yZTiXu8qvM

— Timothy Hobden (@timhobden) February 5, 2015
Mugabe impresses the judges on 'Dancing With The Stars' with his funky moves. • @DancingABC #DWTS #MugabeFalls pic.twitter.com/4mBzIjBNBC — Michael Kirkpatrick (@OtimMichael) February 4, 2015
The never ending #MugabeFalls memes pic.twitter.com/7q7qokWKJH

— Maps Maponyane (@MapsMaponyane) February 5, 2015
"Humpty Dumpty had a great fall.. Then dis #Mugabe This Baba don finish. pic.twitter.com/9oQ9vNiSlH — Aunty mi (@doyinmojisola) February 5, 2015