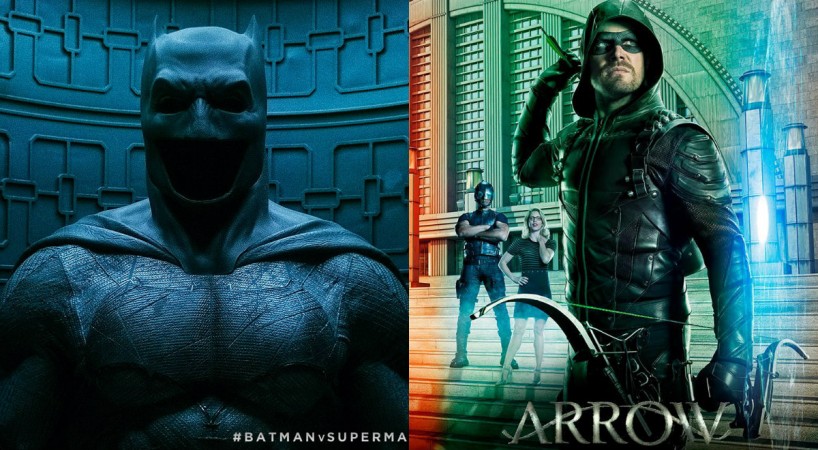 Looks like a successful five season run on CW as the Green Arrow is not enough for Stephen Amell. The DC actor is aiming for the clouds. Like The Flash, another TV show running for about three years now, the Arrow actor wants the comics storyline to be picked up for a silver screen debut.
During a panel discussion at the Heroes & Villains Fan Fest in London, the Arrow star expressed his interest in making an Arrow movie. If he were in-charge, Amell shared his vision of the Arrow movie and teased about blending Batman into the storyline.
Also Read: Batman's future skeptical? Ben Affleck might not return as the Dark Knight after Justice League
The actor revealed that the film will strictly be set in the universe established by CW, Comicbook.com reports. Talking to the website at the fan fest, the actor speculated that if a feature film is made on the character, he would introduce every important character from the show and spin the story accordingly.
"If we were going to do a feature-length film, what I would like to do is I would actually use every single important character from the history of the show that people thought were really important, I'd like to put them all in a situation where they'd all have to work together," Amell said.
"And I would like to put the entirety of the amount of money that we put into an entire season into, like, 98-minutes of screen time and see what happens," he added.
Joining him in the vision, an excited Arrow co-star Emily Bett Rickards exclaimed that the movie should also star Batman. "And Batman!" she said, adding to the possible characters turning up in the movie. Amell tagged along and exclaimed that Batman should be "played by Robbie Amell."
For those who don't know, the 29-year-old Canadian star is Stephen's cousin and stars as Ronnie Raymond aka Firestorm aka Deathstorm on CW's The Flash show.
While all these are just the actor's wish, imagine how the movie would pan out if ever it is made based on these details! If Amell were to play the Batman, would he do justice to the Dark Knight's role? Will he be better or worse than Ben Affleck? Let us know in the comments.
Meanwhile, Stephen will be soon seen returning in CW's Arrow with the sixth season.