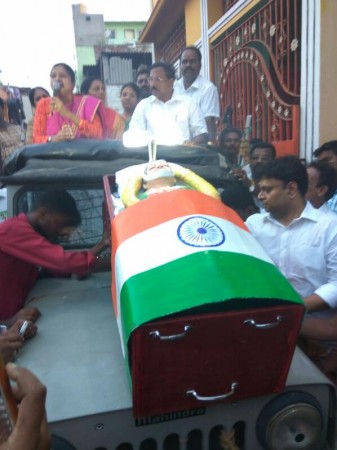 The AIADMK faction led by former chief minister O Panneerselvam has reportedly been campaigning using a replica of the mortal remains of former Tamil Nadu chief minister Jayalalithaa for the Radhakrishnan Nagar (RK Nagar) bypolls which is scheduled to take place on April 12.
It became necessary to conduct the bypolls in RK Nagar after the passing away of Jayalalithaa, who represented the constituency. Deepa Jayakumar, Jayalalithaa's niece, is also contesting from RK Nagar and is representing her recently constituted party MGR Amma Deepa Peravai. TTV Dinakaran is contesting from Sasikala Natarajan's camp while E Madhusudanan is contesting from Panneerselvam's camp.
Chennai: AIADMK (OPS faction) campaigns in RK Nagar with a replica of former TN CM Jayalalithaa's mortal remains #RKNagarByPoll pic.twitter.com/atoRBWzlMd

— ANI (@ANI_news) April 6, 2017
However, Hari Prabhakaran, the joint secretary of the AIADMK's IT wing (Panneerselvam's camp) said the campaign has been stopped.
One thing wanna make it clear, it has no connection with #OPS and it's sorted out immediately and the campaign is stopped. — Hari Prabhakaran (@Hariadmk) April 6, 2017
But it seems the move did not go down well with Jayalalithaa's followers on Twitter who strongly criticised the campaign.
@Hariadmk Leader must take moral responsibility for this outrageous shameful act. How low politicians will go for votes. Classic example . SHAME pic.twitter.com/dpBz00Ytqj

— LN (@Lakshmi_Sydney) April 6, 2017
@TN4evolution @AdmkFails @Hariadmk Let me tell you something DMK is no SAINT they found the formula CASH FOR VOTES. mother of all corruption MK & co. — LN (@Lakshmi_Sydney) April 6, 2017
@Hariadmk shocked to see bro.... hurting.. oh god...

— MUTHU KUMAR B (@MUTHUKUMARSB) April 6, 2017
@Hariadmk Thanks, There are so much to highlight about AMMA and success stories about AMMA, concentrate on that — Gowrishankar (@IAMSGowri) April 6, 2017
@Hariadmk I hope it is stopped. please dont do this again. run a decent campaign. you are already ahead and dont screw it now.

— Saravanan Ayyakkannu (@saranayya) April 6, 2017