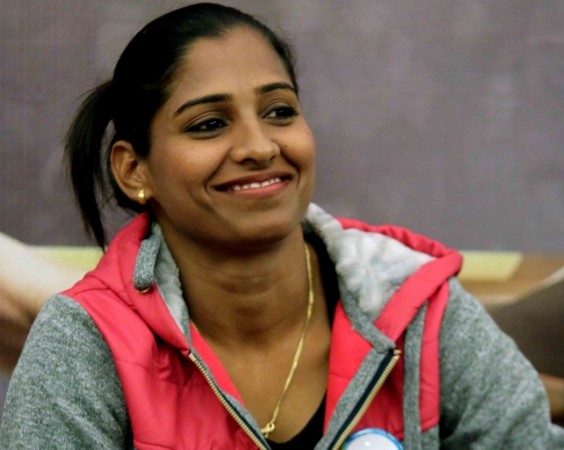 Ritu Rani, one of the most integral members of the India women's hockey team in recent times, has retired from international hockey, Hockey India announced. The 24-year-old halfback from Haryana was unceremoniously snubbed from the women's hockey team for the Rio 2016 Olympics.
It has to be noted that it was due to Ritu that the India women's hockey team qualified for Olympics 2016 after coming fifth at the EuroHockey Championship in London in August 2015. Ritu, who guided her army to the Asian Games 2016 gold, scored thrice to help India thrash Sri Lanka 10-0 in their gold-medal match.
However, her exclusion from the final India women's team for the Olympics by Hockey India remained a major talking point. She got engaged to Patiala-based Punjabi singer Harsh Sharma following her release from the preparatory training camp in Bengaluru, ahead of Rio 2016. That, including some alleged "attitude" issues, were reason enough for Hockey India to exclude her from the team altogether and provoke her to make a premature retirement.
"We got a mail from Ritu Rani 2-3 days back stating that she will not be able to join the national camp as she is retiring from international hockey," Hockey India president Narinder Batra told the Press Trust of India on Wednesday. "It is her personal decision and we at Hockey India respect her decision. Hockey India would like to thank her for her service to the game and the nation," he added.
Ritu became the youngest ever player in the Indian women's hockey senior team after featuring in the Women's Hockey World Cup in Madrid, Spain, in 2006, at the age of 15. She then finished as the topscorer with eight goals in the Hockey Champions Challenge II in Kazan, Russia, three years later.
In 2010, she became the skipper of the India women's hockey team and inspired her army to two bronze medals at the 2013 Asia Cup in Kuala Lumpur and the 2014 Asian Games in Incheon. Ritu has often been compared to Sardar Singh of the India men's hockey team, whose leadership skills and goalscoring records have made him a legend over the years.
Ritu, too, was on the verge of becoming one but now, it seems like everything has come to an end for the gifted athlete. She will, however, now be seen plying her trade for Austrian club SV Arminia.
"Everyone comes to a point in their careers when they have to make to make a choice," India women's hockey team coach Neil Hawgood told ESPN. "From her World Cup appearance in 2006, she has come a long way. I don't think it's a premature decision. Ten years is a long time in international hockey."