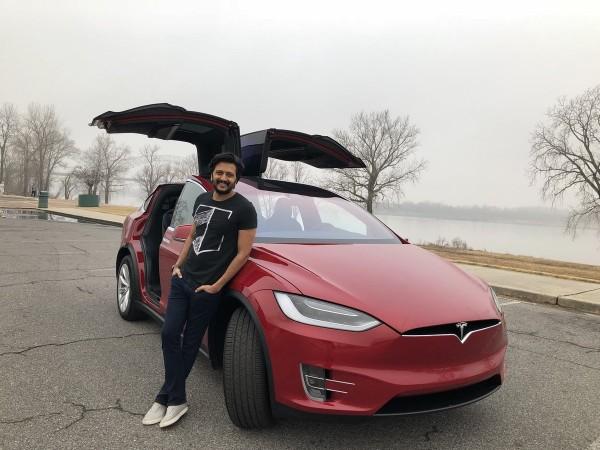 Bollywood actor and producer Riteish Deshmukh has turned 40 years on Tuesday. Among the many gifts he has received, there was a Tesla Model X. The red coloured electric SUV will be special to the actor since it has been gifted by none other than his wife actress Genelia D'Souza.
The Housefull and Masti series actor posted the picture of the new gift on his Twitter page with the caption, "So the Baiko @geneliad surely knows how to make a 40 yr old birthday boy feel like a 20 yr Old."
The backdrop in the image indicates the Model X belongs to Deshmukh is not currently in India. The SUV also sports a left-hand drive layout. This is the second Model X bought by a famous Indian personality. Just a few days back, a right-hand-drive Tesla Model X electric SUV reached the Indian shores via Mumbai port. Arguably, the first Model X to reach the Indian subcontinent belonged to industrialist Prashant Ruia, the CEO of the Essar group.
The Model X costs USD 120,000 that translates to around Rs 75 lakh. With huge import duty added, anyone planning to bring the Model X in India must have to spend over Rs 1.5 crore.
Manufactured at the company's production facility at Freemont in the United States, Tesla Model X comes with 413km range with a top speed of 250kmph. The 90D variant is powered by an electric motor developing 259hp of power transmitted to front and rear wheels that can run from 0 to 96.5kmph in 4.8 seconds.
The premium P90D version uses 503hp motor to the rear wheels and the same 259 hp motor to the front wheels. It can run to 96.5kmph in 3.8 seconds. The Model X comes with safety features such as a floor-mounted battery that lowers the centre of gravity, automatic emergency braking, parking sensors and an eight-year, infinite mile battery and drive unit warranty. The highlight of the Model X is its falcon doors.