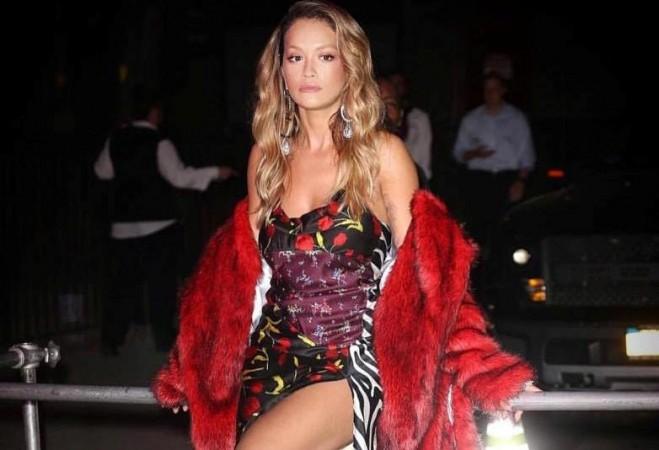 While celebrities were busy sharing photos and videos from their epic year-end parties and sharing throwback from memorable moments through 2017, Rita Ora chose to share one of her raunchiest Instagram posts yet.
The diva turned her New Year's Eve into black and white when she stripped naked to bid 2017 goodbye and welcome 2018.
Also read: Behati Prinsloo goes topless for New Year 2018
Seducing the camera, the greyscale picture sees the songstress lying on a zebra printed runner while flaunting her assets. Posing upside down, the diva strategically positioned herself to cover her modesty and yet give fans an eyeful of her bosoms.
Apart from her busty display, Ora got tongues wagging with her protruding butt in the picture. Though naked, she was covered with jewellery pieces running around her neck and hand. She let her tresses cover part of her face while pouting for the camera.
The 27-year-old completed the look by donning a pair of stilettos. She captioned the picture: "'Hi I'm Rita it's nice to meet you 2018!" Check out the picture here.
Fans couldn't help but praise the stunning image. "Ritaaaa you are killin it amazing picture," read a comment. "What I wouldn't give to be that photographer," said another follower. "Hottest pic of 2018," proclaimed a fan.
Daily Mail reports that the singer is currently enjoying her vacation in Aspen but there is no sign of the picturesque holiday destination in the raunchy post.
Ora welcomed the New Year with her friends Sofia Richie, Paris Hilton and more. The "Aspen Crew" were dressed in chic attires and seen posing in front of gold 'Happy New Year' balloons when the clock struck 12.
In between her New Year's Eve bash, the Fifty Shades Grey cast member teased fans with some eye-popping photos. Wearing a delicate spaghetti straps, Ora was giving fans an eyeful of her curvy cleavage.