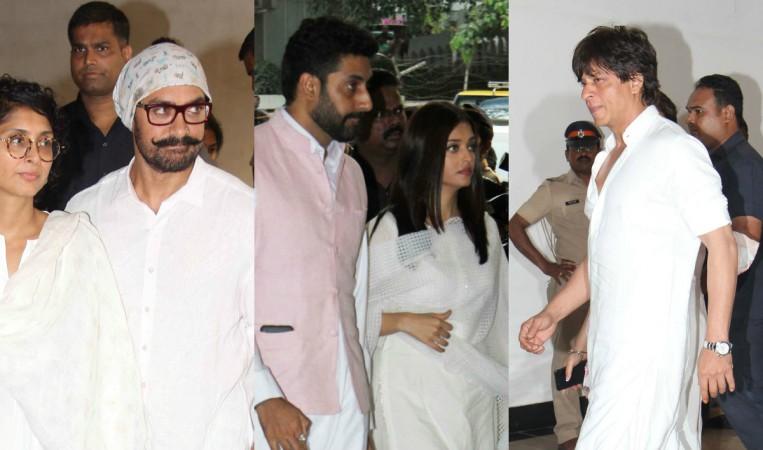 The fact that not many current generation stars attended the funeral of actor Vinod Khanna on April 27 has irked Rishi Kapoor. He then took to Twitter and expressed his displeasure. However, Shah Rukh Khan, Aamir Khan and Hrithik Roshan attended the prayer meet for the late veteran actor on May 3.
SRK, Aamir, Aishwarya Rai Bachchan, Sonakshi Sinha, Hrithik, Amitabh Bachchan and other Bollywood stars have come for the meet. This seemed to have made Rishi quite happy.
He tweeted: "Thank you my film brethren for your solidarity shown towards the Khanna family. Hum mein ab bhi insaniyat baaki hai. Love you all."
Rishi Kapoor and Vinod Khanna have worked together in films like Amar Akbar Anthony and Chandni. When he saw none of the young actors at Vinod Khann's funeral, he was furious.
He slammed the "actors of this generation" for skipping Vinod's funeral but attending Priyanka Chopra's party. He tweeted: "Shameful. Not ONE actor of this generation attended Vinod Khanna's funeral. And that too he has worked with them. Must learn to respect."
Check out Rishi's tweets:
Recent
Thank you my film brethren for your solidarity shown towards the Khanna family. Hum mein ab bhi insaniyat baaki hai. Love you all

— Rishi Kapoor (@chintskap) May 3, 2017
Past
Shameful. Not ONE actor of this generation attended Vinod Khanna's funeral. And that too he has worked with them. Must learn to respect.

— Rishi Kapoor (@chintskap) April 27, 2017
Why this? Including mine and thereafter.When I die, I must be prepared.None will shoulder me. Very very angry with today's so called stars.

— Rishi Kapoor (@chintskap) April 27, 2017
Yes it has been expressed earlier on social media my wife and Ranbir are out of the country. Would never had been reason not to be there

— Rishi Kapoor (@chintskap) April 27, 2017
Angry. Met so many chamcha people last night at Priyanka Chopra's do last night. Few at Vinod's. So fuckn transparent. So angry with them.

— Rishi Kapoor (@chintskap) April 27, 2017
Check out photos from Vinod Khanna's prayer meet: