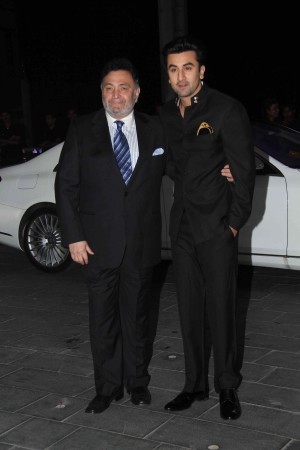 Rishi Kapoor looked a bit upset a few days ago, after the Ranbir Kapoor-Mahira Khan viral picture episode.
But looks like he has Ranbir Kapoor's back completely, and his latest tweet is proof enough.
Rishi Kapoor took to Twitter in the early hours of Saturday and wrote: "He is being honest, media just going aboard. Don't worry I am with you. Yo! [sic]"
Do you think Ranbir Kapoor's NO PR policy is being taken for granted here?
The veteran actor had recently lashed out at mediapersons at an event even before they could start asking him questions.
Rishi Kapoor, who was a part of an event in Mumbai, was supposed to interact with reporters post the ceremony. While everything was going pretty smoothly, Rishi Kapoor out of nowhere started directing the mediapersons, telling them how to stand, what to ask and what not.
He had also come out in full support of Ranbir and Mahira, telling a leading daily: "I've gotten to know Mahira in a personal capacity over the last few months. She is somebody who I admire and respect, for her achievements and even more for the person she is."
Rishi had added: "It is very unfair the way she is being judged and spoken about. What is also said is the inequality in judgment just because she is a woman. I request you to stop the negativity and move on with your beautiful god gifted lives. Peace and Love. PS: Both smoking and hate are injurious to health.''
He had also said about Ranbir: "He can meet anybody whoever he wants to, and if people are going to invade his privacy, it's not done. And I can't say anything about all this because he's a young man and he has the choice of meeting any girl."
Read his tweet in support of Ranbir here: