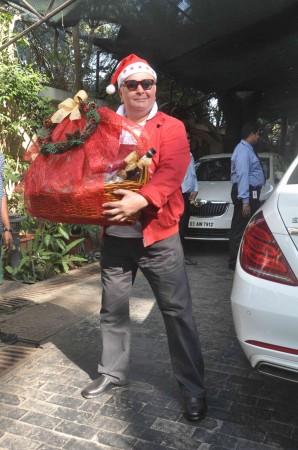 Bollywood veteran Rishi Kapoor stirred a row recently by asking why many national assets were named after the Gandhis, leading some Congress activists to reportedly pelt stones at his house on Thursday. Meanwhile, even as some Congress leaders demanded an apology from the actor, he found support from several corners of the Tinsel-town.
It all started when the "Kapoor and Sons" actor on Tuesday began tweeting about how a lot of things around the country are named after the Gandhi family. He initially tweeted: "Change Gandhi family assets named by Congress.Bandra/Worli Sea Link to Lata Mangeshkar or JRD Tata link road. Baap ka maal samjh rakha tha ? [sic]"
Kapoor followed that up with: "If roads in Delhi can be changed why not Congress assets/property ke naam? Was in Chandigarh wahan bhi Rajeev Gandhi assets? Socho? Why? [sic]"
He went on to add: "We must name important assets of the country who have contributed to society. Har cheez Gandhi ke naam? I don't agree. Sochna log! [sic]"
The actor also batted for important national assets to be named after people other than politicians, or more specifically, the Gandhi family. "Film City should be named Dilip Kumar,Dev Anand,Ashok Kumar ya Amitabh Bachchan ke naam? Rajeev Gandhi udyog Kya hota hai? Socho doston! [sic]" he tweeted.
What seemed to get most people worked up, however, was the tweet: "Why Indira G airport International ? Why not Mahatma Gandhi or Bhagat Singh Ambedkar or on my name Rishi Kapoor. As superficial! What say? [sic]"
The tweets led to protests from various levels of the Congress. Former MP Sanjay Nirupam was quoted by an NDTV report as saying that he had sent the actor a list of airports in the country that were named after leaders other than the Gandhis. "Some people say anything for the sake of power and due to their parochial attitude," the NDTV report quoted him as saying.
Meanwhile, members of the cultural cell of the Maharashtra unit of the Congress demanded an apology from Rishi Kapoor, according to a report in the Indian Express. "Before making such defamatory statement about Mahatma Gandhi, Indira Gandhi and Rajiv Gandhi, Rishi Kapoor should have found time to study history of India and freedom struggle," the report quoted the cell's chief Vikas Patil as saying.
Congress activists also protested outside Kapoor's residence in Bandra, Mumbai, on Wednesday over the tweets, according to a DNA report. A report on Huffington Post said the activists also pelted stones at the house while shouting slogans against him.
Meanwhile, Kapoor garnered support from industry stalwarts like Anupam Kher, who was quoted by the DNA report as telling Times Now: "At least somebody as senior as Rishi Kapoor ji thought about it. I am sure a lot of people think lot of think. But putting it on social website needs a lot of courage. It needs not only courage but genuine thought. I think it's very important."