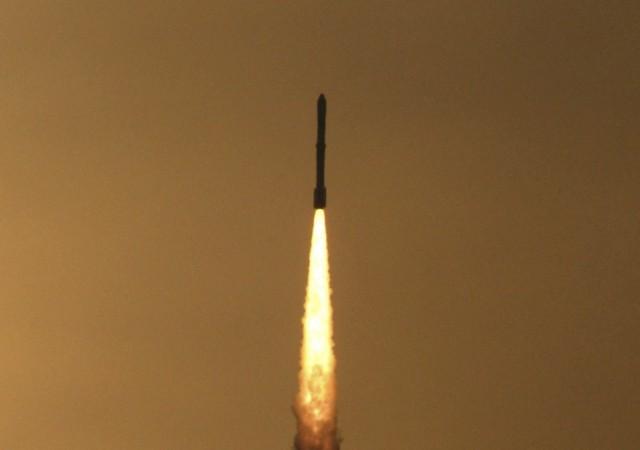 Just a week after the successful launch of long-range ballistic missile Agni-V, India launched a Radar Imaging Satellite (RISAT-1) on Thursday, after a 72-hour countdown.
The Polar Satellite Launch Vehicle (PSLV - C19) with RISAT-1 onboard lifted off at 5:47 am from the Satish Dhawan Space Centre in Andhra Pradesh. With the PSLV-C19 the Indian Space Research Organisation (ISRO) completed its 20th successful launch in the row.
"The launch is a great success," said Indian Space Research Organisation (ISRO) chairman K Radhakrishnan.
The RISAT-1 is first of its kind in India's attempt in the space technology as it is country's first imaging satellite. In other words, it is indigenously developed spy satellite with the ability to withstand all-weather and capture images from the space despite a thick cloud blanket.
Meanwhile, the RISAT is also engineered to forecast natural calamities, which makes it more special.
The Launch Authorisation Board (LAB) for Polar Satellite Launch Vehicle (PSLV-C19)/Radar Imaging Satellite (RISAT-1) mission, which met on April 21 at Satish Dhawan Space Centre (SDSC) SHAR, Sriharikota had cleared the launch of PSLV-C19/RISAT-1 mission on Thursday.
During the countdown, propellant-filling operations of the liquid propellant second stage (PS2) and fourth stage (PS4) of the launch vehicle were carried out.
PSLV-C19 injected RISAT-1 satellite into an orbit of 480 km altitude at an inclination of 97.552 degree. The satellite will be put in its final orbital configuration at 536 km altitude using thrusters onboard the satellite.
The total cost of the mission is about Rs. 500 crores, reports said.
Prime Minister Manmohan Singh appreciated the launch of the RISAT-1, which marks the ISRO's 20th consecutive successful launch of the PSLV, terming it as a "milestone" in India's space programme.
"I would like to warmly congratulate all scientists of the ISRO for the successful launch of the PSLV-C19 carrying RISAT-1, the heaviest satellite launched till date using PSLV. The twentieth consecutive successful launch of the PSLV is an important milestone in our space programme and is testimony to ISRO's mastery of the complex launch vehicle technology," the prime minister said.
"I have no doubt that RISAT-1 is all weather, day-night imaging ability will significantly contribute to the nation's remote sensing capabilities. The country is proud of ISRO's achievements and I wish the organization all success in its future endeavours," Manmohan Singh said.