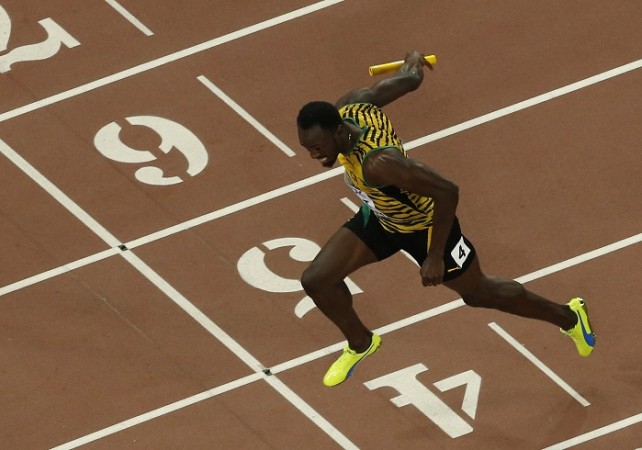 Usain Bolt had a bit of a scare after winning his season-opener on Saturday. The Jamaican tweaked his hamstring after winning the 100m in the Cayman Invitational meeting, and is undergoing treatment.
Bolt is gunning for his third straight 100m, 200m and 4x100m titles in the Rio Olympics, coming up in August, and while the Jamaican superstar won his first title of the season at the first time of asking, it came with a hamstring problem in tow.
The 29-year-old finished first in a time of 10.05s in the 100m at the Cayman Invitational, coming in ahead of Dentarius Locke of the USA and his fellow Jamaican Kemar Bailey-Cole.
According to AFP, who quote local media, Bolt is undergoing treatment in Germany for the problem, under the watchful eyes of the famed doctor Hans-Wilhelm Muller-Wohlfahrt, who has treated many an athlete in the past.
However, Bolt's coach Glen Mills does not think the injury will keep Bolt from competing in his next scheduled event, in Ostrava in the Czech Republic on Friday.
"If you noticed in the race he was grimacing towards the end," Mills told Hitz 92fm radio of Jamaica, according to the news agency.
Bolt, after winning the race, was happy to think he had come unscathed, with the Jamaican not too worried about the slow timing, considering it was the first race of his season.
"It wasn't the best, but as long as I come out injury free, that's the key thing," the multiple-time Olympic champion said. "I didn't feel as smooth as I wanted to, but as I always say, it's hard to just come into your first race and do extra well.
"I am never worried. I've been in worse situations. It's just race rusty. I can tell. I could feel the difference from when you are flying from when you are not."
While race rust can be shaken off with a few competitions, what will worry Bolt and Mills is, that will only be possible if he stays injury-free. Getting in as much competition as possible before the start of the Olympics is essential for all athletes, even for the great man, who always seems to rise to the occasion when the biggest stage comes calling.