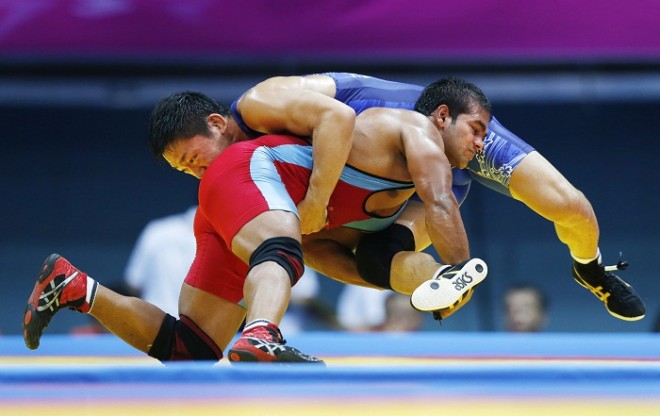 Narsingh Yadav earned a 2016 Rio Olympics quota for India, winning a bronze medal in the Men's 74kg Freestyle category, in September during the World Championships in Las Vegas. But, Narsingh is not guaranteed a flight to Rio, as Sushil Kumar, one of India's best wrestlers, could represent India instead.
Hence, the Wrestling Federation of India (WFI) have a huge choice to make -- Sushil or Narsingh. The two-time Olympic-medallist could not participate in the qualifying event in Las Vegas due to a shoulder injury, but the wrestler has openly expressed his willingness to take part in the trials.
Narsingh believes that the person, who earns the quota place should be sent to Rio.
"Sushil doesn't have an option so he will anyway be ready for the trial. For example, yesterday Vinesh and Sakshi made India proud by winning quotas and medals for the country. Kal ko sattar khade ho jayenge trials ke liye, to theek nahi hoga na (Tomorrow, 70 wrestlers will come and ask for trials with Sakshi and Vinesh. It won't be right). Those who win medals for the country have the right to represent it at the highest level," The Times of India quoted Narsingh as saying.
Sushil has been a huge name in international wrestling, winning bronze and silver in the 2008 Beijing and 2012 London Olympic Games respectively. He won both the medals in the 66kg category.
Narsingh has been equally brilliant in the last few years, winning gold in the 2010 Commonwealth Games, bronze in the 2014 Asian Games and 2015 Asian Championships, in the 74 kg category. Narsingh is one of India's most experienced wrestlers in the 74 kg category. However, Sushil won gold in the 2014 Commonwealth Games in 74 kg.
Interestingly, Sushil had decided to wrestle in the 74 kg category to avoid a face-off against Yogeshwar Dutt, who is his childhood friend. Now, the decision, which Sushil took a few years ago, might hit him hard.
"The WFI knows that Sushil has been a 66kg wrestler and has won medals in that category, while I have fought in the 74kg category since many years," Narsingh said.
The final call remains with WFI.