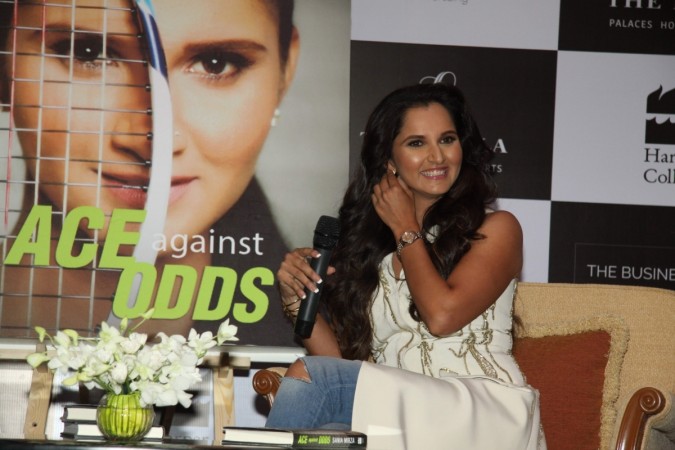 Indian tennis sensation Sania Mirza is being seen as a potential medal contender in the Rio Olympics 2016. The last year or so has been splendid for the 29-year-old as she lifted the Wimbledon 2015, the US Open 2015 and the Australian Open 2016 along with Martina Hingis in women's doubles.
Sania, however, will not be having Hingis as her partner for the Rio de Janeiro games. She will be teaming up with the 22-year-old Prarthana Thombare in the women's doubles event. Prarthana had mentioned that with Sania on her side, she had no fears of facing big names in the sporting quadrennial event and the India star, on her part, lauded her younger counterpart's confidence.
"That's really good. I think younger girls, younger kids today so to say are so much more confident, said Sania to Press Trust of India. "It's amazing if that's how she feels and that she is going to play at the big stage and she is not frightened at all, that's going to be amazing.
"But I am sure there will be some nerves, I hope there will be, because nerves are always good to have. She has been around me for a long time and hopefully that experience should help her."
Sania, who will be featuring in her third Olympics, said that there is nothing predictable for sportspersons anywhere as nobody can ever fathom what comes next. For this reason, self motivation holds the key.
"You have to be your own inspiration, you have to be there because you want to be there (in the Olympics)," the 'Ace against Odds' author continued. "The biggest inspiration is for playing for your country and there cannot be bigger inspiration than that," she said.
The Zika virus epidemic has been a major concern ahead of the Rio Olympics with the sport of golf seeing all the star names pull out of the games. Will Sania be joining the list too? Here's what she said:
I am going to Rio for the Olympics. I am sure we will try and take whatever precautions we can [for the Zika virus epidemic]. But there is no so to say an injection or something you can take. I have already taken the yellow fever injection which was supposed to take. We we will see whatever we can do but I am going (for the Olympics)."