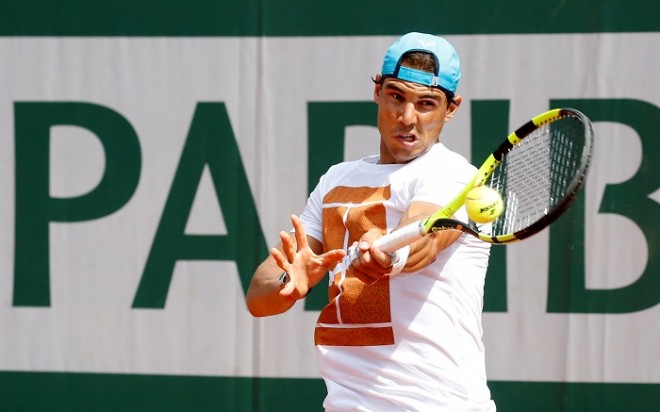 Tennis star Rafael Nadal has been troubled with wrist injury of late, which led to his withdrawal from the ongoing Wimbledon 2016 as well. It was the same injury that led to his sudden exit from the French Open 2016. But the Spaniard is set to represent his nation in the upcoming Rio Olympics 2016.
With Nadal set to participate in the quadrennial event, the Spaniard will be one of the favourites for the gold medal. Not only will the former world number one feature in the men's singles, he is also expected to play in the doubles competition.
However, the Spaniard is not sure about the quality he would be able to produce in Rio due to the injury he suffered. Tennis is a sport where players need a strong wrist to make those powerful shots, hence he needs to be in perfect shape for the Olympics, and challenge tennis stars from around the world.
"I will be there and that's the most important thing, but I do not know how my level of tennis would be. The wrist is better, it was an unfortunate injury because things were going well and I was enjoying the competition, which I could not do in 2015," tennisworldusa.org quoted Nadal as saying.
For tennis stars, playing and winning the Grand Slam is always a huge achievement, but representing the nation in the Olympics is a different matter altogether. Nadal is no stranger to the Olympics as he featured in the 2008 Beijing Games, and clinched the gold medal as well, but did not participate in London 2012.
"In Beijing 2008 I probably lived the two most beautiful weeks of my career. Not being in London, in 2012 was the toughest decision of my tennis life, because you never know what can happen in four years and you do not know if you will be able to play the next Olympics," Nadal said.
The last time Nadal featured in 2008 Olympics, he was playing some outstanding tennis in the ATP circuit. Eight years have passed since the gold medal finish in Beijing, and things have changed, with injuries being a concern as well.
If Nadal wants to win his second gold medal in the Olympics, the road ahead is not going to be any easy in the singles arena. Top players, including Andy Murray, Novak Djokovic, Stan Wawrinka and other several stars are set to feature in the competition, making the Olympics men's singles field even tougher.