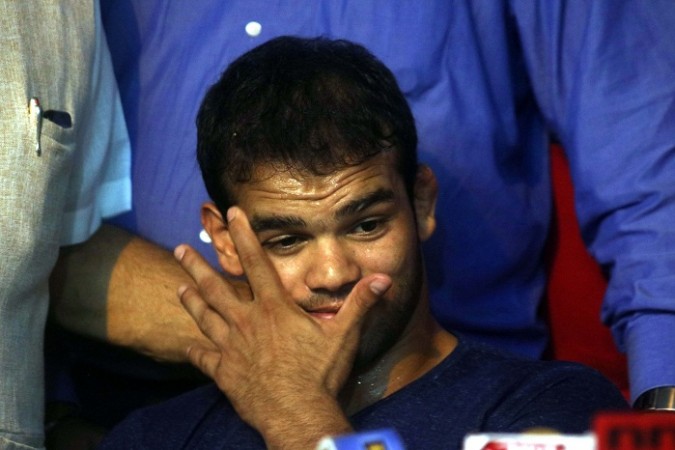 Indian wrestler Narsingh Yadav suffered an unfortunate fate in Rio Olympics as the athlete could not represent his nation in the quadrennial event. The wrestler was handed a four-year ban by the Court of Arbitration for Sports (CAS), and Narsingh is hurt after finding out that people in India had asked World Anti-Doping Agency (WADA) to look into the doping case.
Initially, National Anti-Doping Agency (NADA) had given Narsingh a clean chit after a doping scandal, citing his food supplements were sabotaged. But WADA appealed NADA's decision to the CAS, who after the hearing handed him the ban.
Narsingh feels it is always going to be difficult when people from his own country conspire against him.
"I have got to know that some people in India had told WADA that I had been cleared under political pressure and my case should be reviewed. When my own people are conspiring against me, it becomes even more tough for me to prove my innocence," Press Trust of India quoted Narsingh as saying.
The Wrestling Federation of India is also disappointed with the fate Narsingh had to suffer in Rio, and the body wants a CBI probe into the entire matter. Narsingh has been badly hit by the ban of four years as it could result in the end of his career, and the nation's image has also been tarnished with the case.
"My career will be over. In case, my ban is not reviewed, it would be all over for me. "But it is not just me who have been defamed, this ban on me is a blot on the entire nation's reputation. If my ban is not reviewed, an innocent person would be tainted for life, let alone career being over," Narsingh said.
India had sent their largest ever Olympics contingent in Rio, but many of the medal contenders, including Yogeshwar Dutt in wrestling, underperformed. As a result of this, India could only win a two medals.
But Narsingh, if he was allowed to participate, was sure that he would have won a medal in Rio.
"India has definitely lost out on a medal in 74kg category because one of the two guys who has bagged a bronze in the Rio Olympics, Soner Demirtas of Turkey, I had defeated him during the World Championship at Las Vegas last year enroute to booking my Olympic quota place with a bronze-medal finish there," said Narsingh.