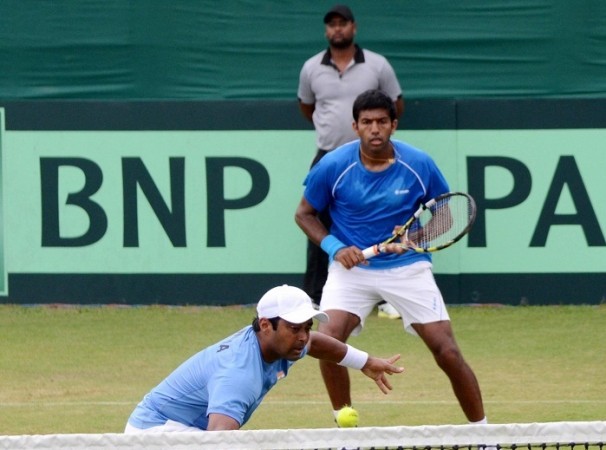 Indian tennis stars will give their best, and try to bring home a medal from Rio Olympics, which is scheduled to start from Aug. 5. No Indian player will represent the nation in the singles event, but they have some strong pairs in the doubles competition to fight for a podium finish.
All India Tennis Association (AITA) chief Anil Khanna believes they have a good chance in the men's and mixed doubles competition. Leander Paes and Rohan Bopanna will play alongside in the men's arena, while the latter will join hands with Sania Mirza in the mixed doubles.
Though Paes was not Bopanna's first choice as partner, AITA asked him to play alongside the Kolkata star, who may well be playing his last Olympics.
This pair showed that they can be a huge threat, as seen in the recently concluded Davis Cup tie against South Korea, where they defeated Seong Chan Hong and Hong Chung in straight sets, score reading 6-3, 6-4, 6-4. The competition is going to be much bigger at Rio though.
However, this was the only competitive match for the pair before they represent India in the Olympics. Paes and Bopanna showed that they can set aside their personal differences, and still play some wonderful tennis.
Paes, with his reflexes, and Bopanna's booming serves can be a huge threat, and their experience in the doubles circuit, though with different partners, will prove to be handy. Khanna was pleased with what he saw against South Korea.
"It came at the right time. Both Leander and Rohan played really well and it bodes well for them ahead of Olympics," Press Trust of India quoted Khanna as saying.
"My view is that we have a chance in mixed doubles and men's doubles."
Though men's doubles will definitely be a strong event for India, Sania and Bopanna will also be trying to achieve success in Rio in mixed doubles. With both the players being strong players from the back court, they need to be clinical at the net with good volleys as well.
Sania had also previously spoke about the mixed doubles event being India's best chance in tennis to help the nation earn a medal. Sania will partner Prarthana Thombare in the women's doubles.